Nicotine pouches, also known as tobacco-free snus or all-white snus, are growing in popularity. As the market has grown in recent years, so has the supply. Several new brands have emerged and existing brands have continued to expand and develop their range with new flavors and varieties.
Ace is a brand that is relatively new to the market compared to several others but at the same time a brand that has rapidly gained popularity. In this article, we take a closer look at Ace nicotine pouches, the brand, and their range.
About Ace Nicotine Pouches: Background & History
Ace is a brand that is relatively new in the market compared to others, but it has rapidly gained popularity. In this article, we examine Ace nicotine pouches, the brand, and its selection.

As a brand, Ace focuses on three main points: a pure taste experience, strength, and simplicity. By "purity," Ace focuses on providing pure and potent taste experiences. By "strength," Ace focuses on producing nicotine pouches with a higher nicotine content and a strong nicotine experience. And last but not least, simplicity means that Ace works to create nicotine pouches with only the absolutely necessary ingredients.
We'll take a closer look at the nicotine strength of Ace later, but this brand stands out with its higher nicotine content compared to most other brands in the market. Ace focuses on producing nicotine pouches with a higher nicotine content, which is well suited for experienced users of nicotine pouches and those seeking a strong nicotine experience.
According to Ace, their products are developed and created based on what customers demand. They carefully listen to their customers' desires by gathering feedback and ideas and then design new products based on this. Thanks to this, Ace is an innovative company that is at the forefront of providing what customers want.
To take its responsibility for the environment, all cans are made from 100% recyclable plastic.
The nicotine pouches from Ace are of high quality, backed by the extensive experience that Ministry of Snus has in producing oral nicotine products. Since snus is not permitted in Denmark, Ministry of Snus produces chewing tobacco in addition to nicotine pouches, which is legal in Denmark.
The focus of the brand is on developing intense flavor experiences with a strong nicotine experience.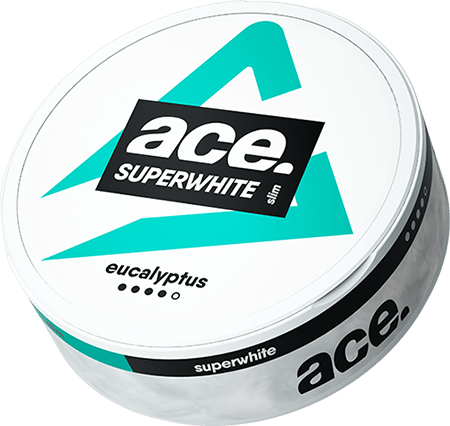 Ace nicotine strength
As previously mentioned, Ace focuses on high-strength nicotine pouches that deliver a strong nicotine experience. Many manufacturers tend to produce low or medium-strength nicotine pouches, and in some cases, a few stronger options. However, Ace only focuses on strong high-strength nicotine pouches.
The lowest nicotine strength for Ace nicotine pouches is 10.4mg of nicotine, which is classified as extra strong. Ace nicotine pouches are available with nicotine strengths up to 20mg per pouch, which is higher than most of the manufacturers in the market. These strong nicotine pouches provide a nicotine rush beyond the ordinary and are primarily for experienced users.
Ace uses a 1 to 6 scale to indicate the nicotine strength on their pouches. Only their strongest nicotine pouches use the 1 to 6 scale while the rest of their products use the 1 to 5 scale. The lowest rating in terms of nicotine strength is 4 out of 5.
Unlike other manufacturers, Ace does not use other terms such as "extra strong" to refer to nicotine strength, but only adheres to its rating system of 1 to 6, which is shown in the form of "dots" on the can.
Some of Ace's flavors are available in multiple nicotine strengths, making it easier to find the strength that suits you best if you have found a favorite in terms of taste. On the other hand, other varieties are only available in one nicotine strength.
Ace's grading system is as follows:
1: Not available in the range
2: Not available in the range
3: Not available in the range
4: 10.4mg per pouch
5: 13mg per pouch
6: 20mg per pouch
Ace uses two names for their products, Ace and Ace X. Ace X is the name used for their strongest nicotine pouches, with strength 5 or 6. Those only using the name Ace all have a strength of 4.
Ace says the following: "With its improved release profile and higher nicotine level, Ace X accelerates like a rocket around the sun and immediately propels you forward." They also write: "You like the superior taste. And you want the kick. So we took our most popular flavor and added rockets to it. It's time to see how far we can go."
What do Ace nicotine pouches contain?
The ingredients for all nicotine pouches on the market tend to be relatively similar as there are a number of basic ingredients that make up the majority of nicotine pouch contents that all manufacturers use. The key component is plant fiber and, of course, nicotine, as well as various flavors and flavorings.
The main difference between different manufacturers is the production method, the flavors they choose to use, and the amount of each ingredient they choose to use, in other words, the proportions between the different ingredients.
The ingredients for all Ace products are more or less the same, where the main difference is the amount of nicotine and the type of flavorings used.
As an example, the ingredient list for Ace Green Lemon is as follows:
Fiber, water, flavors, Erythritol, xylitol, flavors, Acidity regulator (E500), Thickening agent (E401), Sweetener (E959), Cocoa salt, Preservative (E202).
Ace flavors
Ace primarily focuses on classic mint flavors in its product line. Generally, fresh mint flavors tend to work best with nicotine pouches with a higher nicotine content and as this is what Ace focuses on, it's natural. However, there are several other exciting flavors in the Ace range.
The contrasts can be significant, where some nicotine pouches have a sweeter and milder taste, while others have a strong and cooling mint flavor.
When it comes to mint flavors, which are Ace's signature, there are various flavors such as cool mint, liquorice mint, extreme cool, and eucalyptus. When it comes to more fruity flavors, Ace has, among others, guarana chili boost and green lemon.
Ace Licorice Mint
Ace Cool Mint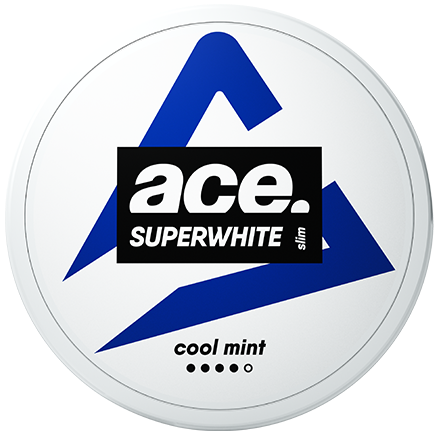 A refreshing experience with a cool taste of peppermint.
Ace Eucalyptus
Ace Extreme Cool
A clear and fresh taste of eucalyptus.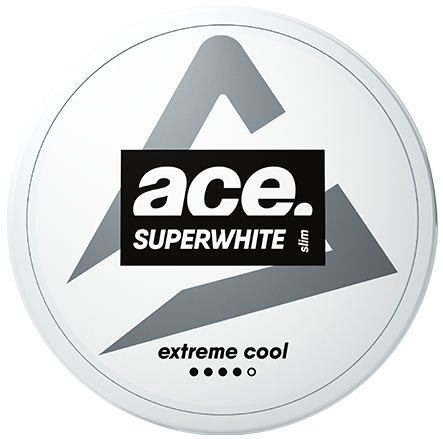 A combination of peppermint and mint with a cooling effect.
Ace Green Lemon
Ace X Cosmic Cool Mint Cosmic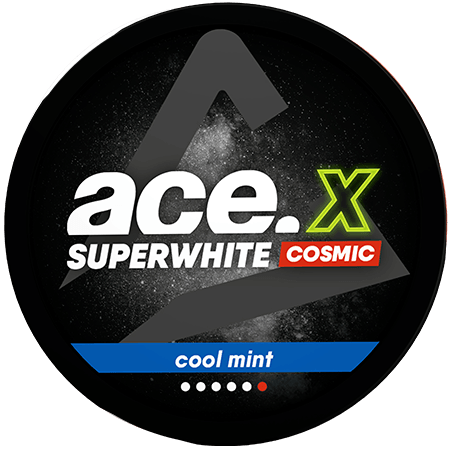 A cooling and powerful mint experience with a taste of mint and peppermint.
Ace X Cool Mint
Ace X Guarana Chili boost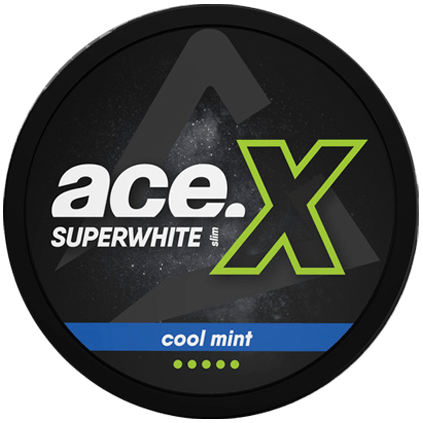 A cooling and strong flavor of peppermint.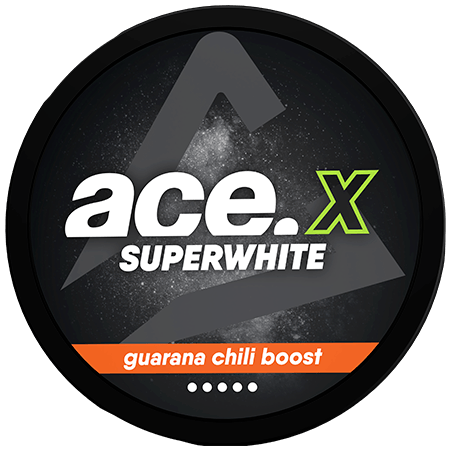 A unique flavor experience with a taste of habanero chili pepper and guarana.
Ace format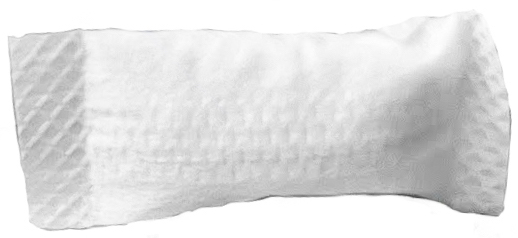 Ace nicotine pouches are available only in one format, slim. Unlike many other manufacturers, they do not have both slim and mini formats in their product line. The pouches are not as elongated as some other slim pouches but have a more normal rectangular shape. The pouches are known for being airy and full, providing a comfortable fit under the lip. At the same time, because they are not as slender as some other slim pouches, they are not as discreet.
Additionally, Ace X comes in larger portion sizes for a stronger and more intense flavor experience.
How many pouches are in a can of Ace?
A can of Ace contains 20 pouches per can.