Loop is one of the most popular brands of nicotine pouches on the market today. Loop stands out with its unique and revolutionary flavors and flavor combinations in a market dominated by various mint flavors.
Loop is a relatively new brand of nicotine pouches but has still managed to build a strong reputation for itself. In this article, we take a closer look at this popular brand and its products in detail.
About Loop nicotine pouches: background and history
Loop was founded by Another Snus Factory Stockholm AB, based in Stockholm. Another Snus Factory was founded in 2019 with the ambition of doing things differently. In 2021, the company launched its second brand, Tribute +47, which is a tobacco snus inspired by Norway. The Loop brand, on the other hand, only produces white, tobacco-free nicotine pouches.
To quote themselves:
"We create amazing products and inspiring brands with three guiding principles, to do things we feel proud of, always try to do what we think is right, and to enjoy the ride."
Another Snus factory is a newcomer in the snus and nicotine pouch market, challenging big and old companies such as Swedish Match, Skruf, and British American Tobacco, but despite this, they have managed to take market share and do very well in the nicotine pouch market, especially with Loop.
Loop was launched in 2020 and therefore has a relatively short history. They have nonetheless managed to do a lot and have launched many products and become a natural choice for many.
Loop manufactures its nicotine pouches in its factory in Kungsängen.

Loop Nicotine Strength
Loop nicotine pouches come in three different nicotine strengths, ranging from 2 to 4 on a scale of four. Different manufacturers use different systems to indicate strength. The most common is to use a scale with "dots" from one to four or one to five. Instead of dots, Loop uses numbers and a scale of 1 to 4.
The strength system represents the following nicotine amounts:
1: No nicotine pouch in the range
2: 6.75mg per pouch (mini) 10 mg/g (slim)
3: 9 mg per pouch (slim)
4: 20 mg/g (slim)
Note that some of the nicotine strengths are presented in mg/g and others in nicotine per pouch, which are not the same thing. This is because a slim-prilla has a weight of 0.625 grams.
At present, Loop only produces its Extra Strong nicotine pouches with a four on the scale in slim format. Also, they have no sort in their range that has a strength of 1. Previously, Loop had a slim pouch with a nicotine strength of 2 but today only in mini format.
Loop has developed Instant Rush technology that they use for all nicotine pouches they produce. InstantRush TM technology provides an immediate nicotine release that is also designed to give a lasting effect.
What does Loop nicotine pouches contain?
Most nicotine pouches on the market have relatively similar ingredients. The main component is always plant fiber, along with nicotine, flavors, and sweeteners. In addition to this, a few other ingredients are used to give the pouches the right properties and ideal shelf life. The difference between different manufacturers tends to primarily be in how they are developed, their format, and some differences in the amount used.
Overall, the ingredients are very similar, although there may be some differences. Both in ingredients but mainly in how they are combined and how much of each ingredient is used. The ingredients list may vary slightly depending on the flavor but the ingredients list is the same for all Loop nicotine pouches.
As an example, the ingredients list for Loop Jalapeno Lime Strong is as follows:
Ingredients: Fiber, water, nicotine, flavors, sweeteners (E968, E950), acidity regulators (E500, E330), moisture preservatives (E401), anti-caking agents (E551), sodium chloride, preservatives (E202).
Loop shelf life and can – PlantCan™
Loop places great importance on sustainability and is the company that has developed the first environmentally friendly snuff can. All Loop products come with their unique PlantCan™ can, which has a comfortable, matte feel. This can is also the first environmentally friendly snuff can in the world, made of 100% plant-based plastic created with tall oil extracted from the waste materials of the forest industry. The can is naturally recyclable, so be sure to put it in the plastic recycling to give it a new life.
Even in its production and factory, Loop works with sustainability. They only use plug-in hybrid cars and strive to make their production sustainable.
Loop flavors
Loop comes in a wide range of flavors to suit all preferences. Regardless of which one you choose, you can always expect a flavor experience beyond the ordinary from Loop.
Combinations such as Jalapeno and Lime may not be the first flavor combination one would think of – but Loop has done it, and the result is a fantastic tasting pouch that has received positive feedback from everyone who has tried it. As a result, it not only stands out from the ordinary but it has also become one of the most popular flavors in Loop's range.
When you want a unique flavor experience, Loop nicotine pouches are recommended.
What stands out most about Loop nicotine pouches is how long the flavor lasts. Other nicotine pouches may lose their flavor after a while, but Loop's flavors are strong even after an hour of use.
What flavors of LOOP are there?
There are several exciting flavors of Loop available today. The most popular are Mint Mania, Jalapeno Lime, Mango Tango, and Raspberry Licorice.
Loop occasionally launches new exciting flavors to its collection while some are discontinued, such as Sicily Spritz.
Let's take a closer look at the flavors that Loop offers:
Jalapeño lime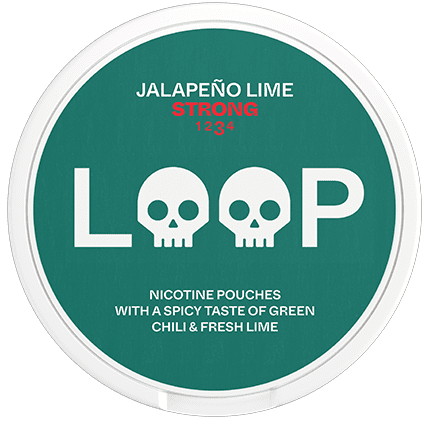 Jalapeno is one of the most popular flavors from Loop. The flavor combination may seem odd at first, but you'll be surprised at the fantastic taste when you try it. Loop Jalapeno Lime has a fresh and sour taste of lime combined with the heat from green jalapeno. The use of jalapeno adds a bit of a sting to the prill, but not in an unpleasant way. On the contrary, it enhances the experience during use.
Salty Ludicris
Salty Ludicris has a sweet taste of raspberry and salt licorice and provides a flavor experience beyond the ordinary. Imagine a classic raspberry licorice candy with a touch of salt. Some nicotine pouches may have a slightly artificial taste, but this flavor tastes exactly like the candy and is both sweet and refreshing.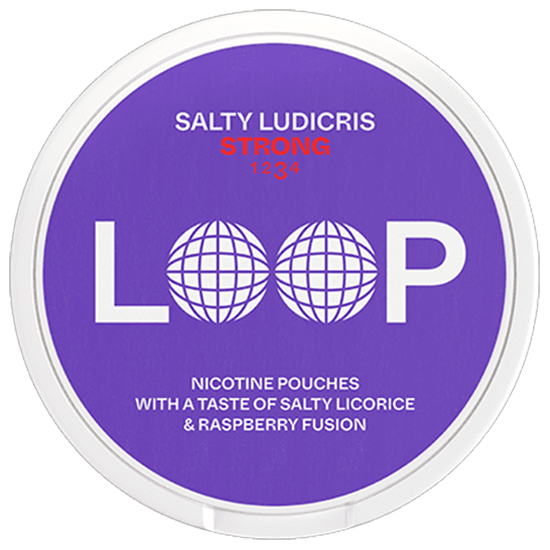 Mango Tango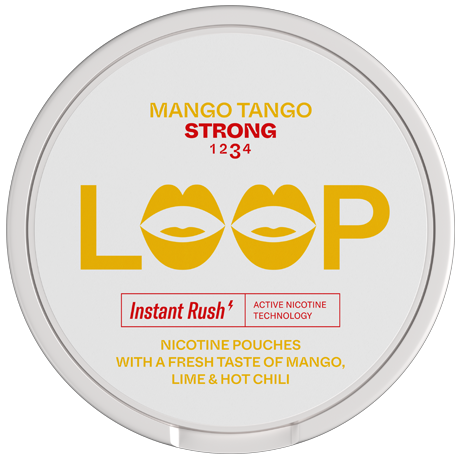 Mango Tango has a sweet taste of sun-ripe mango combined with the sourness of lime and heat from chili. The balance between sweetness and heat provides a completely fantastic flavor experience beyond the ordinary. Additionally, it retains its flavor surprisingly well.
Mint mania
If you like mint, this is a classic that you definitely should try. It has a strong and fresh mint flavor and a touch of sweetness, which gives a good balance where the mint does not take over too much or become too strong.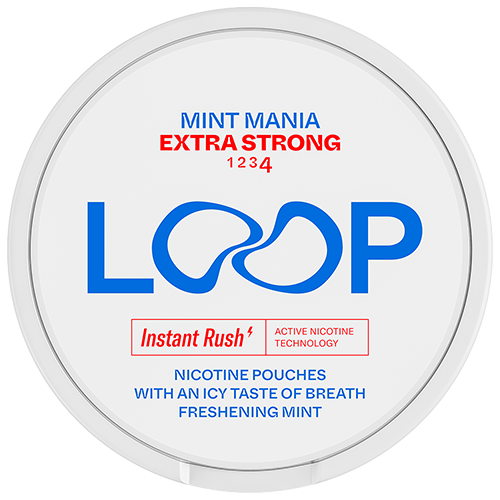 Habanero mint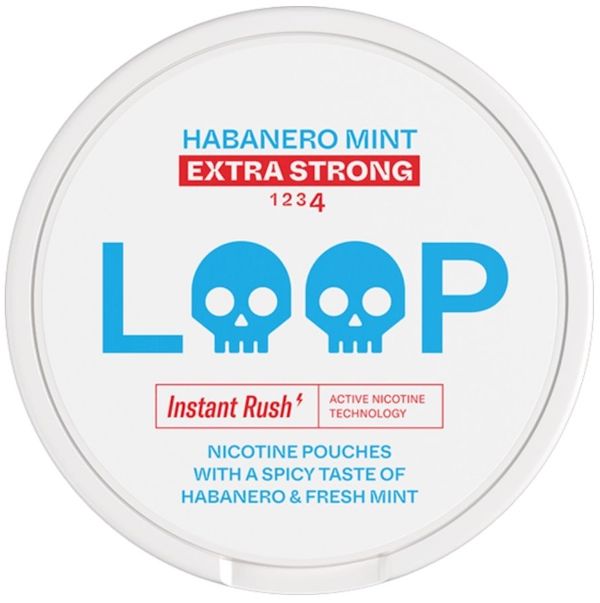 An unexpected flavor combination that has resulted in one of the most popular flavors from Loop. This nicotine pouch has a smooth and good mint flavor combined with the heat from habanero. The heat adds a lot to the overall experience and provides a sting without being too noticeable.
Loop format
What sets Loop nicotine pouches apart is that they are softer than usual. The pouches resemble a soft fabric such as fleece, making them comfortable to wear under the lip with a good fit.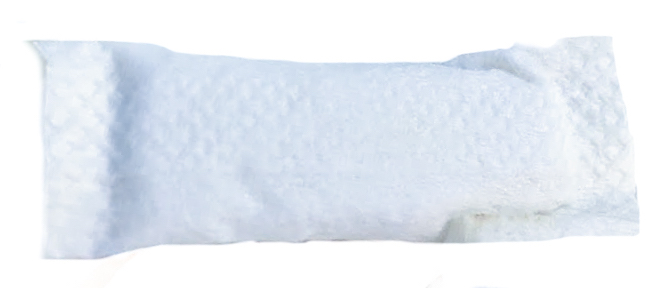 Loop is made in two formats, slim or mini. The pouches are dry with a slightly moist content, causing them to leak a bit.
How many pouches are in a can of Loop?
A can of Loop contains 24 pouches and a can of Loop mini contains 20 pouches per can.