If you're new to nicotine products, it's important to choose a product that suits your needs. Nicotine pouches are a great option to start with, especially for those with a lower nicotine strength. When you insert a nicotine pouch under your lip, you may feel a strong nicotine kick, especially if you're new to nicotine. Your body hasn't built up resistance yet, so it's important to start with a lower nicotine strength. That way, you can ease into the experience and avoid any uncomfortable side effects. At Swenico, we want to help you make an informed decision. That's why we recommend nicotine pouches with low nicotine strength for beginners. They're a more enjoyable way to explore nicotine products.
Low-Strength Nicotine Pouches for the Canadian Market
As of April 2023, Canada continues to regulate the strength of nicotine pouches imported to 4mg per pouch. Therefore, this guide is not just for first-time buyers, but also for those who face restrictions on importing certain nicotine pouches to their country.
General Tip for Lower Strength Nicotine Pouches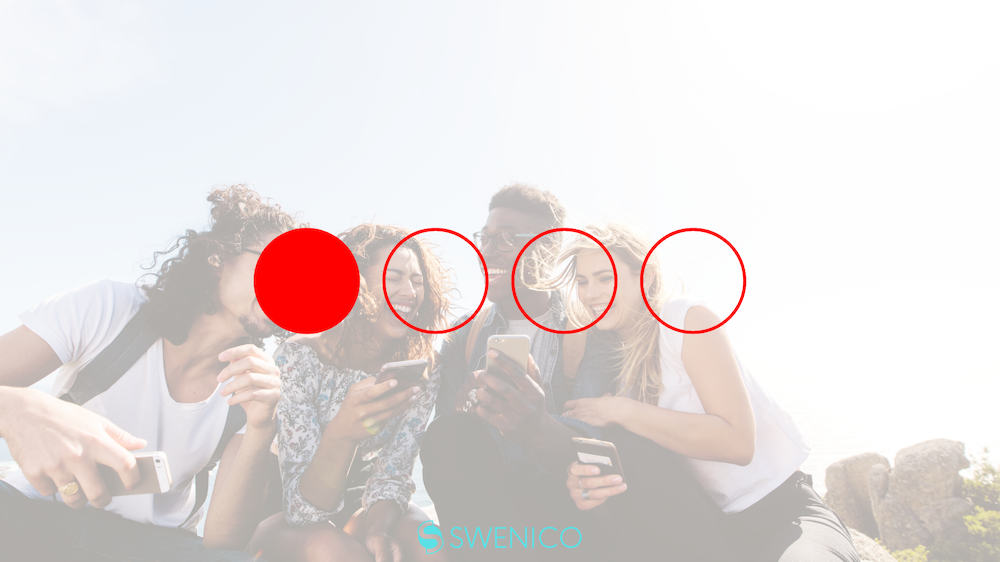 If you're looking for nicotine pouches with a lower strength, we suggest choosing ones with a strength no higher than 4mg/pouch. These types of pouches are often labeled as "light" or marked with 1 dot on a strength scale that ranges from 1 to 4 (and sometimes 5).
By selecting nicotine pouches with a lower strength, you can enjoy the experience without worrying about any pronounced side effects. Keep in mind that everyone's tolerance to nicotine is different, so it's always a good idea to start slow and work your way up.
SHIRO Sour Red Berries #6 (4mg)
Did you know that SHIRO is a brand owned by Philip Morris, a major company in the nicotine industry? One flavor we highly recommend is Sour Red Berries. As the name suggests, it delivers a tangy burst of sourberry flavor that's sure to switch up your traditional flavor game. Whether you're new to nicotine pouches or an experienced user, SHIRO's variety of low-strength options makes it easy to find a product that works for you. With delicious flavors like Sour Red Berries, you can enjoy a satisfying and tasty experience with every use.
About SHIRO
The name "Shiro," which means "white" in Japanese, is a suitable name for a manufacturer of nicotine pouches. Despite being relatively new to the market, Shiro has rapidly gained popularity. Shiro is owned and produced by AG Snus and is the brand's first all-white, tobacco-free option.
Mint Flavors by SHIRO
If you're searching for low-strength nicotine pouches with a variety of flavors, SHIRO has got you covered. They offer a diverse selection of flavors, including their traditional Mint flavor in various strengths, with a minimum of 2.2mg per pouch. The range of Mint flavors available from SHIRO is particularly impressive, so if you're a fan of this classic taste, you'll find plenty of options to choose from.
---
ZYN Spearmint Mini Dry Mild (1,5mg)
For those who are new to nicotine products and want to start with an ultra-low strength option, we recommend trying ZYN Spearmint Mini Dry Mild. This particular pouch has an impressively low nicotine strength of just 1.5mg per pouch, making it a great choice for beginners. Not only is ZYN Spearmint Mini Dry Mild perfect for those new to nicotine, but it also comes in a mini dry format, which is the smallest size available. This makes it discreet and easy to use, no matter where you are. Another benefit of the dry format is that there's minimal dripping, which can be particularly pleasant for beginners who aren't yet used to the feeling of a moist pouch.
About ZYN
Swedish Match is the parent company of ZYN, which was acquired by Philip Morris in 2022. Swedish Match is a well-known company with a long history of producing tobacco snus and has been a leading manufacturer of snus products in Scandinavia and other regions for many years. As the demand for tobacco-free nicotine products has increased, Swedish Match has responded by diversifying its product line to include tobacco-free nicotine pouches.
More Flavors by ZYN
ZYN is one of the top nicotine pouch manufacturers in the market, and they have a plethora of options to choose from. If you're curious to see what they have to offer, simply search for "ZYN" among our available products, and you'll find a wide range of options to choose from.
Alternatively, if you'd like some recommendations, we've handpicked three of our favorites that we think you'll love. These pouches are not only low in nicotine strength, but they also come in a variety of flavors to suit your taste buds.
---
XQS Blueberry Mint Slim (4mg)
XQS is yet another manufacturer that satisfies most taste buds with their impressively wide selection of flavors with no exceptions for you who are looking for low-strength nicotine pouches. With unique and innovative flavors such as Blueberry Mint, you get the sweet flavor of blueberries, found in any Swedish forest, together with the refreshing flavor of mint.
About XQS
XQS International AB is a well-known manufacturer that specializes in creating nicotine pouches, proudly under the distinguished XQS brand. The company has gained significant recognition in the industry thanks to its exceptional and mouthwatering flavors. XQS International AB is committed to ensuring product safety and quality, which is evidenced by its rigorous testing and analysis protocols. To ensure that its products meet established standards, XQS International AB sends its products for comprehensive evaluations on a weekly basis.
More Flavors by XQS
We are sure that you will find a flavor amongst XQS's wide selection that surely will be one of your future favorites. With flavors such as Cactus Sour, Fizzy Cola, or Twin Apple, there is simply one nicotine pouch for every preference. XQS's selection of nicotine pouches is often found rather moist in every can, making the flavor present instant.
---
On! Spicy Margarita Mini (3mg)
For those of you seeking to switch up your nicotine pouch game and try something new and exciting, we highly recommend the On! Spicy Margarita mini format pouches. With each pouch containing 3mg of nicotine strength, these pouches are the perfect choice for those looking for a mild but flavorful experience. The On! Spicy Margarita pouches are not only unique in their flavor but also in their can design. The flavor profile of the On! Spicy Margarita pouches are a delightful combination of tangy lime and spicy chili, providing a perfect balance of sweetness and heat. These pouches are sure to give your taste buds a ride and satisfy your craving for something different.
About On!
On! Nicotine Pouches, owned by RÅÅ S AB, which is a joint venture between Altria and BS Group, has come a long way since its inception in 2011. Originally established as an innovation center, RÅÅ S AB quickly evolved into a production facility for snus and nicotine pouches, with a team of approximately 100 employees working together to create the best products in the market.
More Flavors by On!
Luckily, On! Nicotine Pouches with a lower strength do not limit the selection of flavors, but actually the opposite. Not only is the unique can design something that stands out, but also their impressive wide selection of flavors such as Berry, Tropical Spice, and Coffee.
---
KLINT Honeymelon #1 Slim (4mg)
KLINT is a relatively new brand on the market, but still with an assortment of low-strength nicotine pouches. The honey melon flavor is definitely a favorite amongst the Swenico-team, and a perfect gentle nicotine pouch flavor for you seeking a milder nicotine kick.
About KLINT
Based in Stockholm, Sweden, Habit Factory is an unconventional manufacturer that dares to challenge convention, predictability, and established rules. The company was founded by a group of former snus users who were passionate about creating their own great-tasting nicotine pouches that are completely free from tobacco. With their drive and dedication, they embarked on a journey to bring their vision to life and create a brand that defies expectations.
More Flavors by KLINT
Except for the summer-inspired honey melon flavor, Klint offers more traditional flavors such as Mint and Liquorice, but also exciting flavors such as Passionfruit.
---
Low-Strength Nicotine Pouches In Conclusion
In conclusion, low-strength nicotine pouches are perfect for you who are trying out nicotine products for the first time, or for you that face restrictions in importing Nicotine Pouches to your country. With exciting flavors from different manufacturers, we are sure that you will find something here at Swenico that matches your taste preferences.
If you require assistance in selecting the appropriate nicotine pouch, please feel free to contact our Customer Support for a prompt response.