Nicotine pouches are growing in popularity and to meet the high demand, the supply and brands have grown rapidly.
When nicotine pouches were a relatively new product from 2015 and a few years forward, the supply of nicotine pouches on the market was limited. There were only a few manufacturers and there was relatively little to choose from.
But the supply has grown rapidly to now offer an endless amount of different nicotine pouches from many different manufacturers in all different flavors and formats.
Nicotine pouches, also known as all-white snus, white snus, tobacco-free snus, or all-white, are an oral nicotine product that can be described as a product development of classic tobacco snus. Nicotine pouches are similar to tobacco snus in many ways and are used in exactly the same way, but the big difference is that nicotine pouches do not contain any tobacco.
Some of the advantages that users experience with nicotine pouches over tobacco snus include:
Available in many different flavors
Today, there is a large selection of brands on the market for nicotine pouches, and one of the most popular is On!. This brand is relatively new to the nicotine pouch market, but has quickly grown to become one of the most popular, especially among women.
Are you curious to learn more about On! Nicotine pouches, you've come to the right place. In this article, we take a closer look at On!.
About On! Nicotine Pouches: Background and History
On! is manufactured by Helix Sweden AB. Altria is a global tobacco company with a large group of companies that include Philip Morris, John Middleton; Helix Innovations and Philip Morris Capital Corporation, among others. Altria Group, Inc. is an American company and one of the world's largest manufacturers and marketers of tobacco, cigarettes, and related products. It operates globally and has its headquarters in Henrico County, Virginia, just outside the city of Richmond.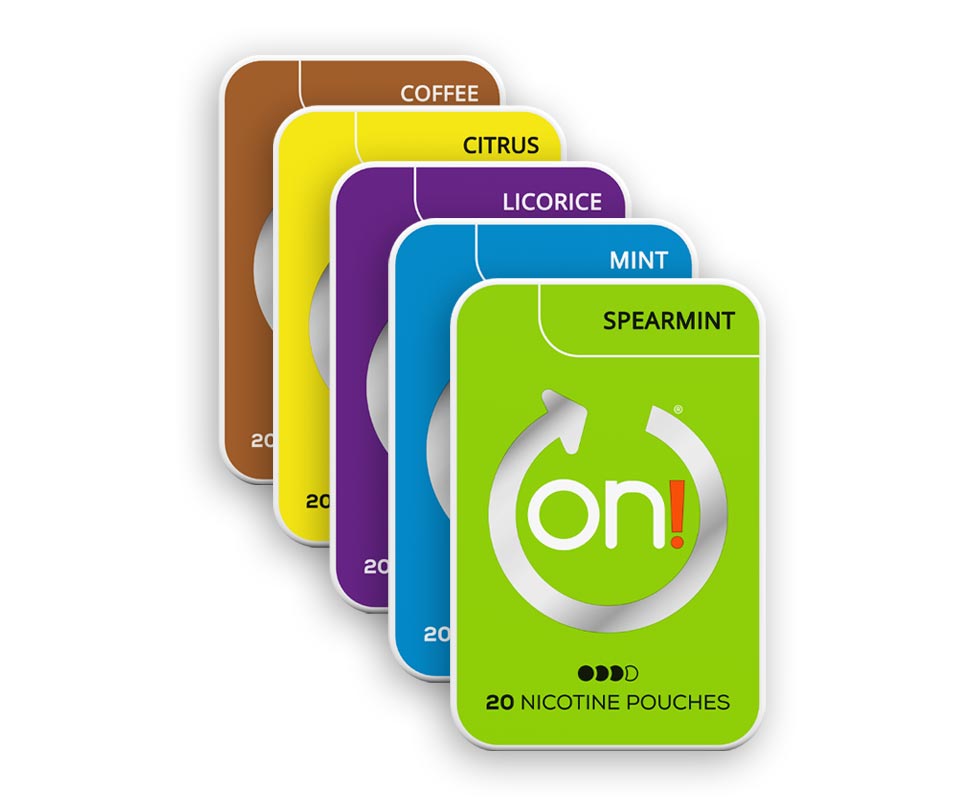 Altria's vision until 2030 is to responsibly lead adult smokers towards a smoke-free future. As a step in this direction, Altria acquired 80% of Burger Söhne Holding AG in 2019, which is the company that sells On! nicotine pouches. In December 2020 and April 2021, Altria's subsidiary closed the transactions to acquire the remaining 20% of the global On! business for a total of approximately 250 million dollars.
In other words, Helix Sweden AB is a Swedish company owned by Altria. Altria created a new subsidiary, Helix Innovations LLC ("Helix"), which after the acquisition of On! serves as the parent company to Burger Group's subsidiary that manufactures and sells On!.
On! only manufactures white nicotine pouches and comes in a wide range of flavors and several nicotine strengths. The nicotine pouches are characterized by being dry, white, small, and discreet.
Something that many people do not know is that On! used to manufacture snus with tobacco under the same brand but later switched to making On! completely tobacco-free and only manufacture tobacco-free nicotine pouches.
On! nicotine strength
On! Nicotine pouches are available in three different nicotine strengths: 3mg, 6mg, and 9mg.
On! uses a scale of 1 to 4 indicated by "pops" on the can.
The strength system for On! represents the following nicotine amount:
1: No nicotine pouch in the range
What does On! nicotine pouches contain?
The ingredients for nicotine pouches on the market are relatively similar. The basic and most central ingredients in nicotine pouches, and also in On! nicotine pouches, are plant fiber, nicotine, and flavor/aromas.
The ingredient list for different varieties of On! nicotine pouches will vary somewhat but mainly it is the flavor and the level of different ingredients that vary, mainly the level of nicotine.
For example, the ingredient list for On! Mint is as follows:
Fillers (E460, E965), acidity regulators (E500), flavors, moisture-preserving agents (E422), stabilizers (E1201), nicotine salts, sweeteners (E950).
On! flavors
On! is currently available in nine different flavors and new flavors are occasionally launched.
The flavors offered by On! include Lemon Berry, Spicy Margarita, Tropical Spice, Berry, Spearmint, Mint, Licorice, Citrus, Coffee.
As one can see in their flavor offerings, the majority of them are fresh options dominated by different fruit-inspired flavors.
Which On! flavors are there?
Lemon Berry
Spicy Margarita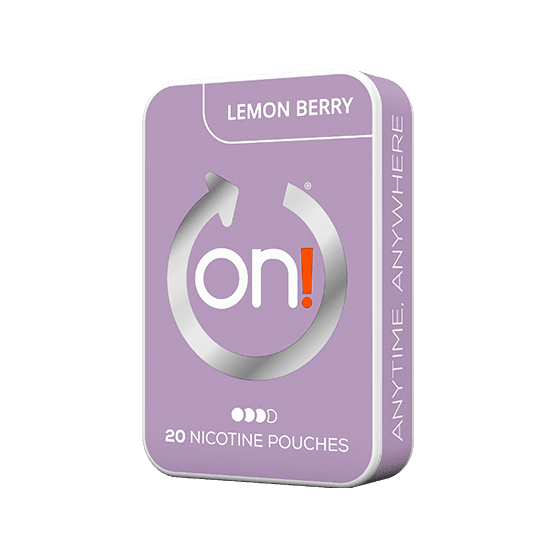 On! Lemon Berry has a fresh taste of citrus with hints of dark forest berries.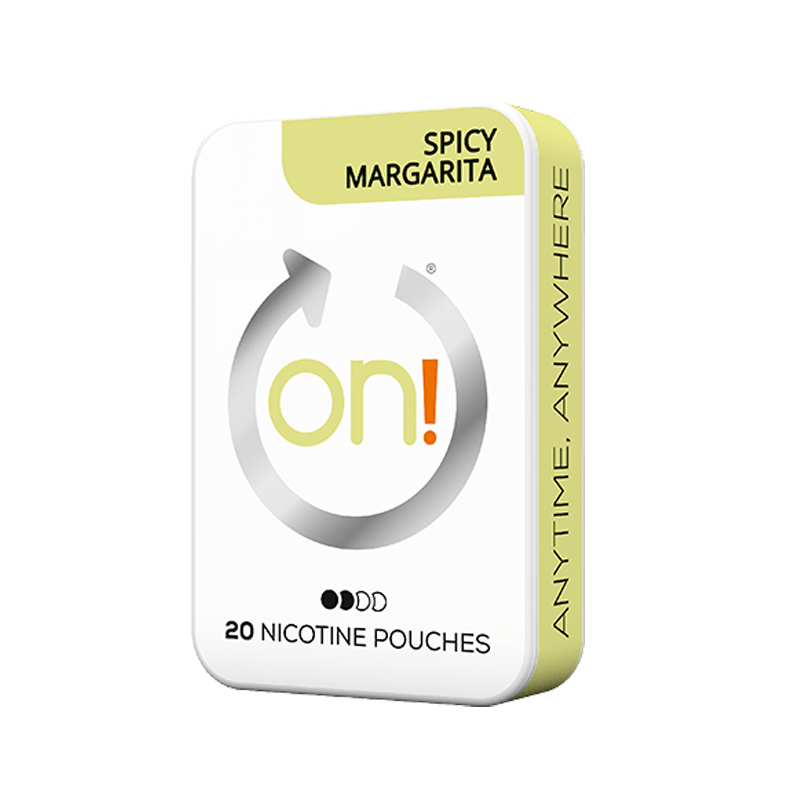 Inspired by the margarita drink, this nicotine pouch has a clear taste of lime with a touch of heat and a little bite.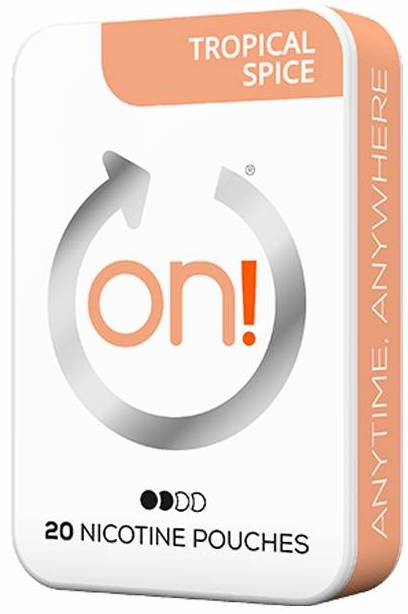 Tropical Spice has a taste of tropical fruits that take your mind to the tropics, clear blue waters, and palm trees. The flavor has a hint of heat and bite for an enhanced taste experience.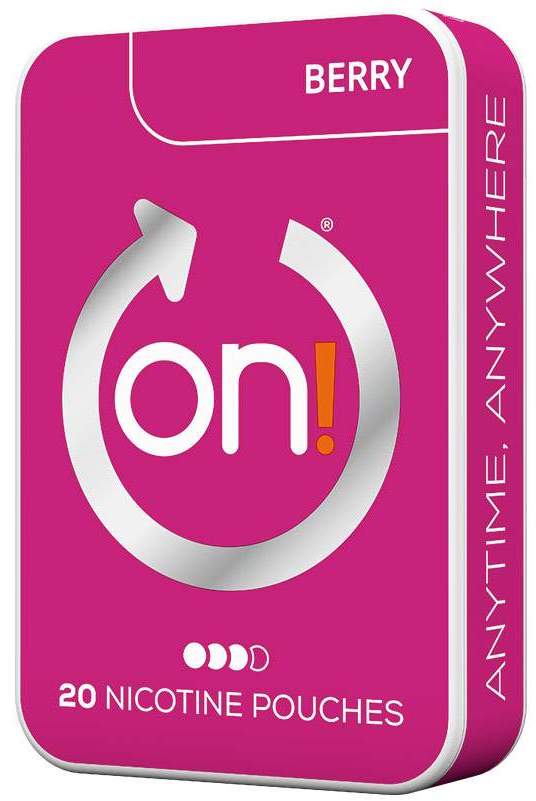 On! Berry has a fresh and fruity taste of currant and blackberries.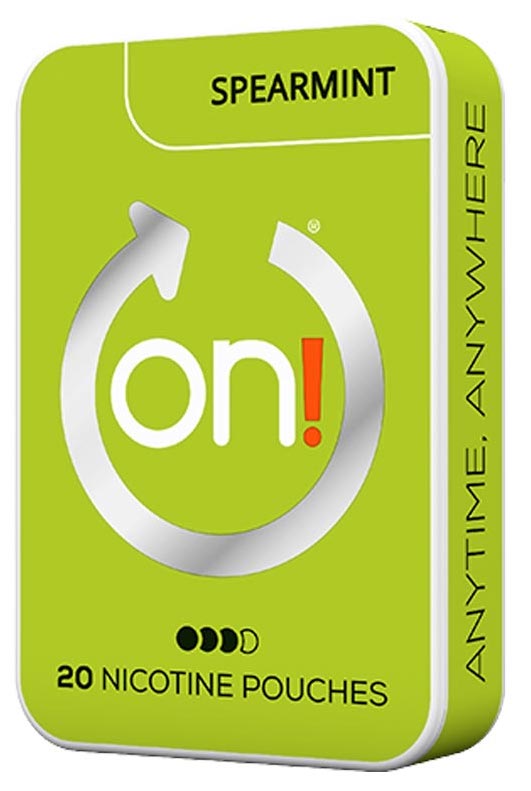 On! Spearmint has a sweet and fresh taste of green mint.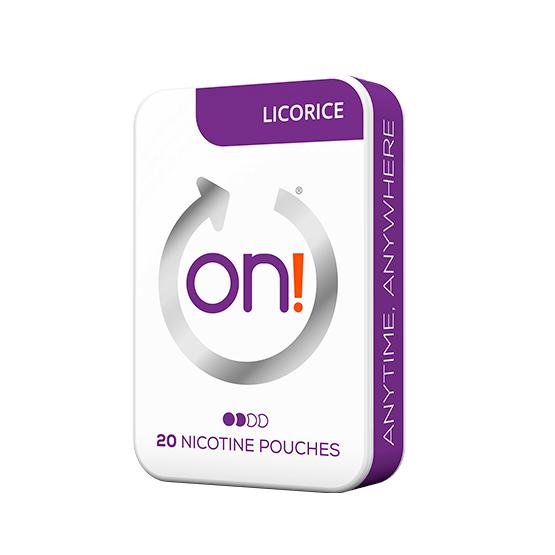 Nicotine pouch with a classic taste of licorice.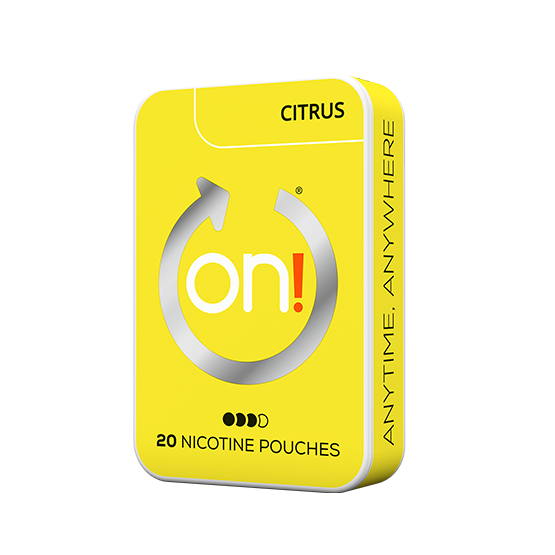 A clear fresh and crisp taste of lemon.
Coffee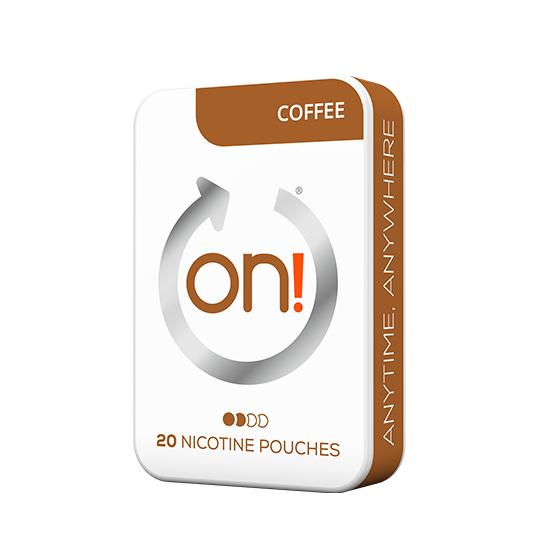 As the name suggests, On! Coffee has a clear taste of coffee.
On! Format
On! Nicotine pouches come only in mini-format, making them discreetly usable anywhere and anytime without being noticeable. This may be one of the reasons why On! nicotine pouches are especially popular among women, who generally prefer the mini-format to a greater extent than men.
While many manufacturers offer formats, they usually only have a few options in the mini-format in their product line. On!, however, has its entire range in mini-format, providing great choices for those who want a mini pouch. Additionally, it becomes easier to know what you're getting when you know that On! only manufactures nicotine pouches in mini-format.
On! Recommends their nicotine pouches be used for up to 20 minutes. Although recommendations from all manufacturers vary, the reason for this is due to the portions coming in mini-format. Since mini-format is used, these have a shorter shelf life than slim-format.
How many pouches are in an On! can?
An On! Nicotine pouch can contains 20 pouches.