Tobacco-free nicotine pouches, also known as white snus, tobacco-free snus, or all-white, are increasing in popularity. Nicotine pouches have gone from being a relatively new product on the market to dramatically increasing in use. Nicotine pouches had their big breakthrough in 2017 and 2018, during this time there were relatively few brands and manufacturers on the market. The market was also very limited in terms of supply.
However, as nicotine pouches have become more popular, more and more brands have come onto the market. Many times it has been from snus manufacturers who make tobacco snus but have broadened their range with nicotine pouches. Tobacco snuff and nicotine pouches are very similar in many ways. They are used in exactly the same way but the big difference is that nicotine pouches are completely free from tobacco.
One of the brands that have emerged in recent years is Shiro, which has also quickly gained popularity. In this article, we take a closer look at the nicotine pouch brand Shiro and everything that is worth knowing about this brand.
About Shiro Nicotine Pouches: Background and History
Shiro is a brand name that means "white" in Japanese and is a fitting name for the all-white nicotine pouches. Shiro only produces tobacco-free, all-white nicotine pouches.
Shiro is today manufactured by Philip Morris AB, which is a company within the Philip Morris conglomerate, one of the world's largest tobacco giants. Although Shiro is a relatively new product on the market, the brand's history is longer than many realize, due to its relaunch in 2022.
Shiro was originally introduced by AG Snus, one of the oldest snus companies that produces several well-known tobacco snus brands such as Kapten, Sisu, and Crafted snus. AG Snus was founded in 1864 and is a Danish company from Assens. They have long-standing expertise in the development and production of tobacco snus and it is with this knowledge that they broadened their product range by developing Shiro.
AG Snus was a family-owned company for five generations but since May 2021, it belongs to PMI, Phillip Morris International, which is one of the world's largest tobacco giants. Just like most other tobacco giants, Phillip Morris has big ambitions to make a larger part of its revenue come from smoke-free, healthier alternatives. Phillip Morris says the following:
"We are building PMI's future on smoke-free products that – even though they are not risk-free – are a much better choice than cigarette smoking."
Our vision, shared by all at PMI, is for these products to one day replace cigarettes.
We understand the millions of men and women who smoke cigarettes. They are searching for less harmful, yet satisfying, alternatives to smoking. We will provide them with that choice. We have a commitment to our employees and shareholders, which we fulfill by following this path to sustainable success. We have a social responsibility that expects us to act responsibly, and we do just that by delivering a smoke-free future. Over a decade ago, we set the goal of creating less harmful alternatives to cigarettes. Thanks to the ingenuity and perseverance of our scientists and thousands of others at PMI – and an investment to date of over 9 billion USD in science-based innovation – we have done just that, developing groundbreaking, smoke-free, and enjoyable products.

In 2025, Phillip Morris plans to become a completely smoke-free company.
Through the acquisition of AG snus, which produces both tobacco snuff and nicotine pouches, Phillip Morris can broaden its range of smoke-free alternatives, which is in line with the company's goal of a completely smoke-free future.
In conjunction with the acquisition of AG snus, the company made significant changes to both the brand and product line. They presented a completely new look for Shiro and thus rebranded the brand. Shiro, although it existed before, was a brand that many were not familiar with, and for this reason, many have believed that the relaunch of Shiro was actually the first launch of the brand when it was not the case.

In conjunction with the launch, Shiro expanded its product range with new flavors and products and the company has also announced that it will further expand the product line with new flavors and strengths.
Let us compare the old Shiro design with the new side-by-side: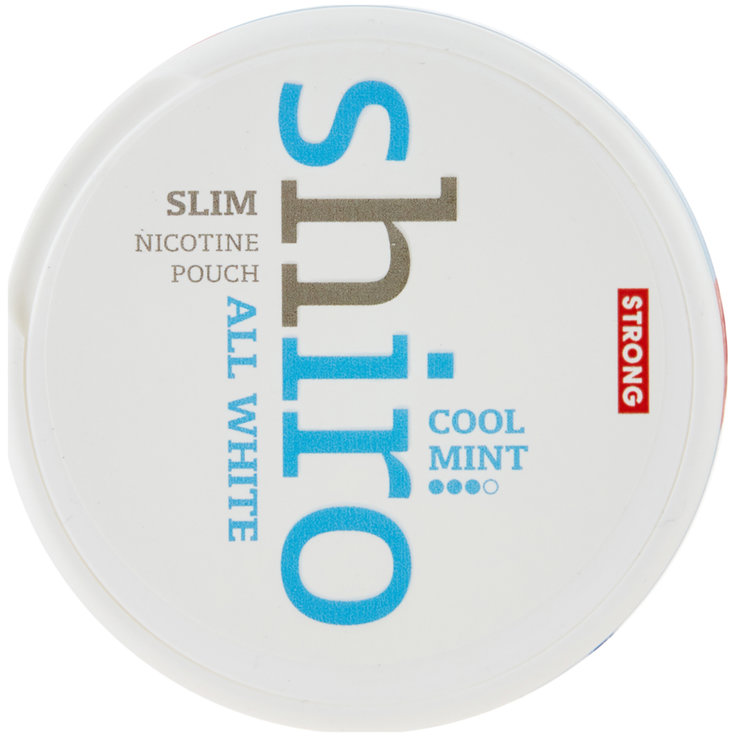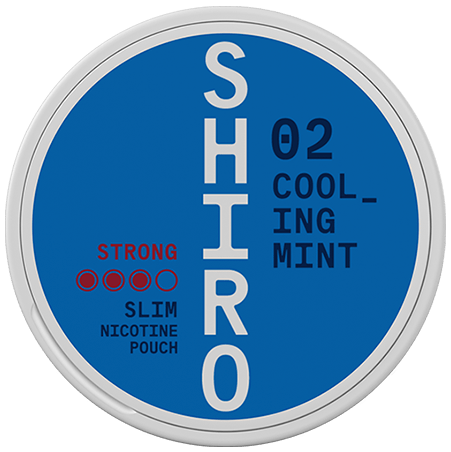 Shiro nicotine strength
Shiro nicotine pouches come in four different nicotine strengths. The lowest nicotine content (1/4) is 2.2mg of nicotine per pouch and the strongest variant (4/4) has 9.6mg of nicotine per pouch.
Like most manufacturers, Shiro uses a rating system between 1 and 4 to indicate the nicotine strength of its pouches. Shiro does this in the form of "dots" that indicate the strength and amount of nicotine used.
1 (Low): 2.2mg nicotine per pouch (mini)
2 (Medium): 4.3mg per pouch (mini) and 4.8mg nicotine per pouch (slim)
3 (Strong): 8.4mg nicotine per pouch (slim)
4 (Extra Strong): 9.6mg nicotine per pouch (slim)
Note that the nicotine strength for slim and mini can differ even though they have the same rating on the scale. This is because most manufacturers refer to the strength not only based on the amount of nicotine but also the nicotine experience, which is after all the most important thing. There are several things besides the amount of nicotine that affects the nicotine experience, including format and moisture content. For example, Shiro mini with nicotine strength 2/4 contains 4.3mg of nicotine per pouch, while Shiro Slim with nicotine strength 2/4 contains 4.8mg of nicotine per pouch.
What do Shiro nicotine pouches contain?
As with all nicotine pouches on the market, the main ingredient in Shiro nicotine pouches is plant fiber. Shiro contains pure plant fiber with added nicotine extract.
The majority of nicotine pouches on the market have relatively similar ingredients as nicotine pouches use a number of key ingredients that make up the foundation of nicotine pouches. This includes flavors and flavorings, nicotine, and plant fiber. What primarily distinguishes different manufacturers from each other is the distribution of these ingredients and how much of each ingredient they choose to use, as well as the manufacturing process.
All ingredients used in nicotine pouches, including Shiro's, are food-grade approved. The ingredients list for all of Shiro's nicotine pouches is more or less the same, primarily with variations in the amount of nicotine and flavoring.
For example, the ingredients list for Shiro 02 Cooling Mint slim strong is as follows:
Cellulose (plant fiber), water, glycerol, sodium chloride, flavorings, nicotine, sodium alginate, benzoic acid, potassium sorbate, maltodextrin, sodium carbonate, ammonium chloride.
Shiro flavors
In addition to the names of the different flavors, Shiro has developed a numbering system that makes it easier for you to remember your favorite flavor.
Shiro is currently available in six different flavors but as the company has promised, the range of flavors will be expanded in the future.
What flavors of Shiro are there?
Sour Red Berry
Fresh Mint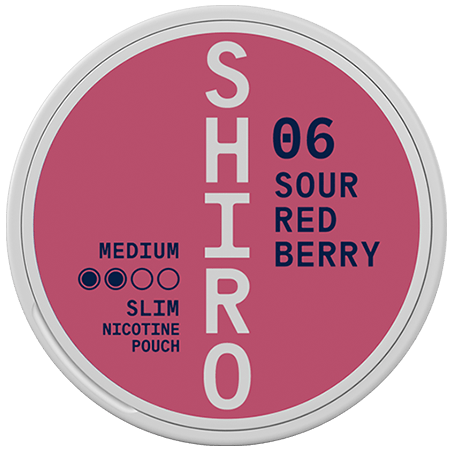 "Sour Red Berry has a sour and sweet taste of red berries. A delightful balance of sour and sweet."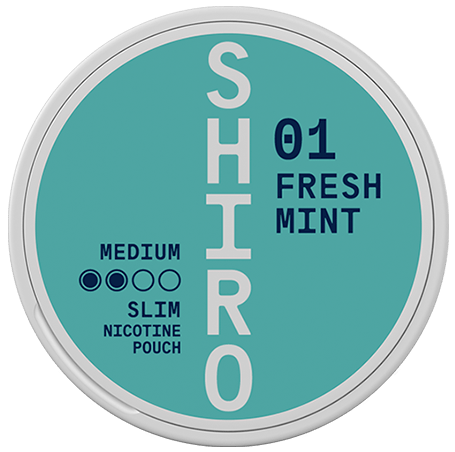 "A classic and long-lasting taste of spearmint."
Tingling Mint
Cooling Mint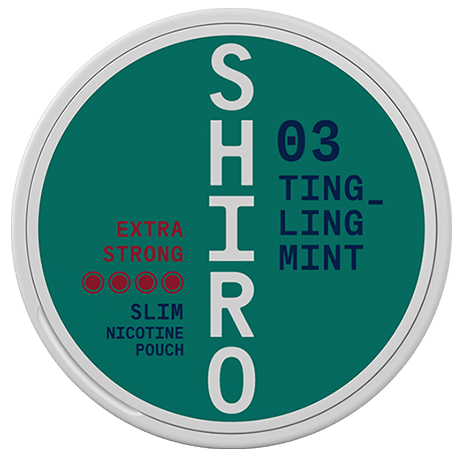 "A frosty and spicy flavor of mint with hints of evergreen."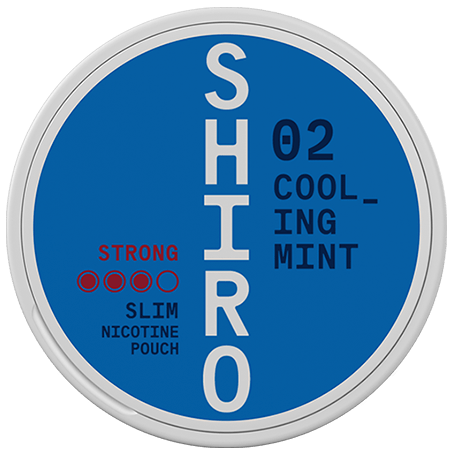 "A cool mint flavor with hints of the freshness of menthol."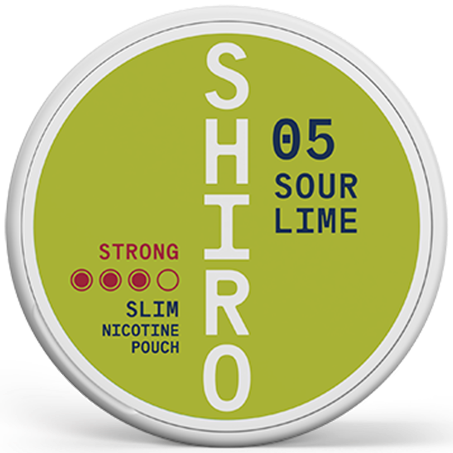 "A fresh and spicy flavor of lime with a touch of tartness."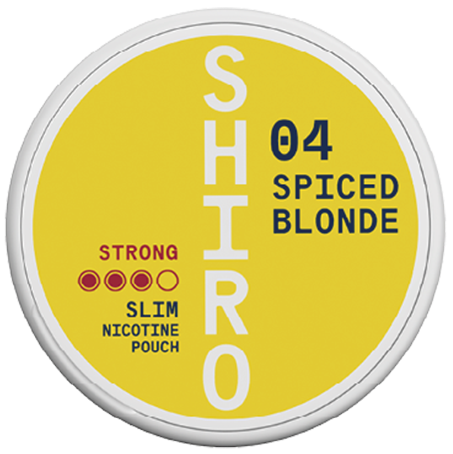 "An exciting flavor combination of ginger and banana that provides a taste experience beyond the ordinary."
Shiro format
"Shiro nicotine pouches are available in two formats: slim and mini.
What distinguishes Shiro's slim nicotine format is that the slim format is more elongated than most other slim nicotine pouches on the market. This allows the pellets to remain even more discreet under the lip."

"Shiro's mini format is suitable for those looking for an even more discreet option that is not visible at all during use.
Shiro's nicotine pouches are dry to minimize dripping."
How many pouches are in a Shiro can?
A Shiro slim can contain 21 pouches and a Shiro Mini contains 22 pouches.