The market for nicotine pouches, also known as tobacco-free nicotine pouches, tobacco-free snus, all-white, and much more has grown tremendously in recent years. As the popularity of nicotine pouches grows, so has the availability of nicotine pouches.
Nicotine pouches made their breakthrough in the market during 2017 and 2018, and during this time the alternatives were limited. There were only a few brands to choose from and only a limited range of flavors.
Fast forward to today and there is now a wide range of flavors and brands on the market. One of these is Swave.
At the core, nicotine pouches are a product development of classic tobacco snus as they are used in exactly the same way but with the big difference that they do not contain tobacco. This is an important reason for the increased popularity of nicotine pouches as many users see several major benefits in that the products do not contain tobacco. Some of the key benefits include:
Available in many different flavors
Contains fewer harmful substances
Does not taste like tobacco
Since nicotine pouches can be described as a product development of tobacco snus, it is not surprising that many of the brands on the market have been created by snus companies. The manufacturing process looks similar and snus manufacturers can use their solid expertise and knowledge in oral nicotine products to develop nicotine pouches – which many have done.
One of these brands is Swave, which we will take a closer look at in this article.
About Swave nicotine pouches: background and history
To understand the history of Swave, we need to start from the very beginning.
Swave is a brand manufactured by Gotlandssnus. Gotlandssnus has a long and solid experience in producing tobacco snus. Gotlandssnus was founded in 2002 and started by producing tobacco snus.
The company was founded by Henrik Jakobsson who early in the 2000s worked with quality at Flextronics. But as layoffs became many, Henrik started thinking about new business ideas. He had noted that the trend of new flavors and taste experiences had increased in food, such as for sparkling water. In this thought, it struck him that there was a lack of innovation in the snus market.
In this, Henrik decided to become the best in the world at flavored snus. During the early stages, Henrik began experimenting with manufacturing and raw materials. He started in his kitchen at home, but as the family complained about the smell, he continued to experiment in the workshop. To continue his development, he sold his motorboat for 20,000 SEK.
Henrik worked on development for two years to come up with a recipe and work on a business plan. At the end of 2002, he went to Almi and borrowed a few hundred thousand to finally start a real production. He started small by producing his first batch of snus that produced 200 cans in 2003.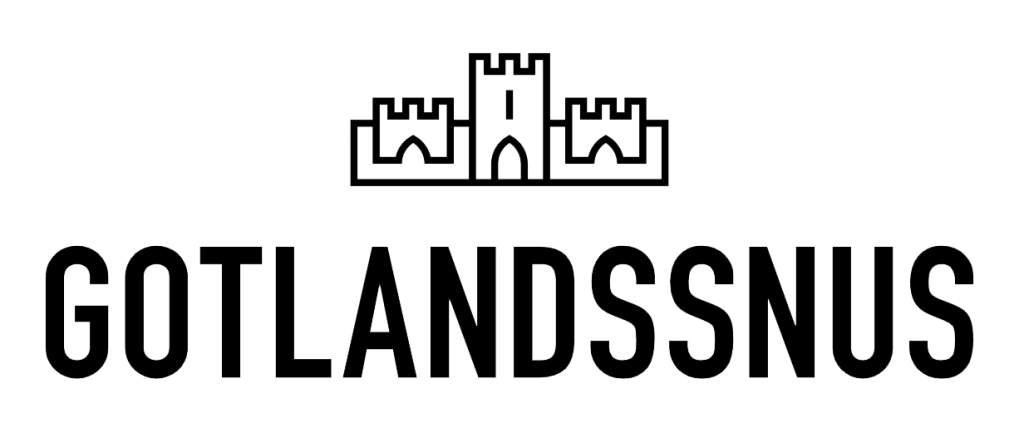 After a few years, they finally had the opportunity to build their own factory in Roma, in the center of Gotland. The expansion continued in 2007 when the company started exporting snus. During this time, the name Gotlandssnus was changed to Jakobssons. Today, Gotlandssnus produces three brands: Jakobssons, a tobacco snus, Vitt, a tobacco-free and nicotine-free snus, and Swave, nicotine-free pouches.
In 2018, Swedish Match acquired Gotlandssnus. They bought up the majority of the company's shares for a price of around 300 million Swedish kronor. At the time of the acquisition, the company had revenue of about 50 million kronor and about 40 employees in their factory in Roma, Gotland.
Nicotine pouches have a big advantage compared to tobacco snus, which is that they offer a completely different opportunity for flavoring. Tobacco snus is limited by the tobacco flavor that must be well aligned with the flavor. But because nicotine pouches have no tobacco flavor, there are greater opportunities for flavoring. Since Gotlandssnus has been focusing on flavored snus since its start, the company had a great expertise in this area. For this reason, nicotine pouches were ideal to broaden its product range and develop nicotine pouches with completely unique and high-quality flavors.
With its long-standing expertise in snus production and its knowledge of flavoring, Gotlandssnus developed and launched Swave.
In July 2020, Gotlandssnus launched its first brand of nicotine pouches, Swave. Swave was originally launched in two flavors, Daiquiri and Tropic Spritz, but since its launch, the Swave range has grown a lot and several flavors have both come and gone.
"Swave is flavored nicotine pouches in different formats and strengths, made in Roma on Gotland. Each portion is crafted with care in our microfactory, and our vision has always been to dare to fail to succeed in creating our signature flavors. We are a small-scale producer who always uses the highest quality raw materials, where taste and craftsmanship are what create Swave."
Swave is manufactured in the Gotlandssnus factory in Roma Kloster on Gotland. Today, Gotlandssnus offers factory tours where you can see the entire Gotlandssnus facility in Roma. They also talk about the entire manufacturing process.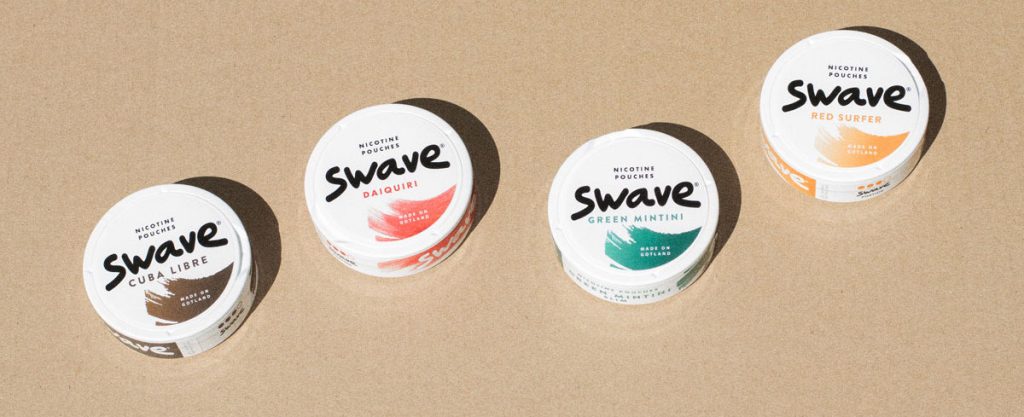 Swave nicotine strength
Swave nicotine pouches are available in different nicotine strengths, from 5.5 to 11mg per pouch. The majority of Swave's nicotine pouches do not use a grading system, making it somewhat harder to know the nicotine strength of the products. Manufacturers usually use a grading system, usually from 1 to 4 or 1 to 5. Although Swave uses a grading system from 1 to 4 on some of its pouches, the majority of them do not have a grading system. Additionally, many manufacturers have several different nicotine strengths for the same flavor, allowing users to easily find the nicotine strength they prefer for the flavor they prefer. But one drawback is that Swave currently only manufactures one flavor in one nicotine strength.
The weakest nicotine pouch is their mini format, with a nicotine strength of 8.5mg. Their lowest nicotine strength is therefore higher than many other manufacturers' low levels.
What do Swave nicotine pouches contain?
The majority of nicotine pouches on the market contain relatively similar ingredients as there are a number of basic ingredients always used for nicotine pouches. What primarily distinguishes different manufacturers and varieties is how they are manufactured and the amount of the various ingredients used.
The most central ingredients in Swave nicotine pouches are nicotine, flavorings, sweeteners, pH adjusters, and fillers. All ingredients used are food approved.
Swave nicotine pouches are manufactured with fillers from cellulose from trees, and the vegetable fiber in Swave Slim is bamboo.
The ingredient list for Swave's various nicotine pouches may vary slightly but are essentially the same.
As an example, the ingredient list for Swave Cuba Libre is as follows:
Water, filler (E460), vegetable fiber, moisturizer (E422), flavors, acidity regulator (E500, E509), salt, nicotine, emulsifier (E471), sweetener (E954).
Swave flavors
Swave was originally launched with two flavors: Daiquiri and Tropic Spritz. Since the brand's launch in 2020, many new flavors have been introduced.
In addition to its standard flavor lineup, Swave consistently launches its so-called "Factory Batch" which are limited edition releases of new flavors. Factory Batch is a series of products produced in limited edition within nicotine pouches and largely inspired by the exciting drink world, but also seeking inspiration from other exotic corners. Some of the Factory Batch flavors that Swave has developed over the years include Sparkles, Rhubarb Smash,
Some Factory Batch flavors become so popular that they stay in the lineup. Swedish Match wrote the following when Red Surfer went from being a factory batch to becoming a standard product in the lineup:
"Red Surfer was a success when it was released as the first product in the Factory Batch series on April 20th. And now it's here to stay."
With that said, the Factory batch concept gives Swave the opportunity to test the market with different flavors and if they become popular, they can become part of the permanent lineup.
What Swave flavors are available?
Today, Swave has 6 flavors in its offering: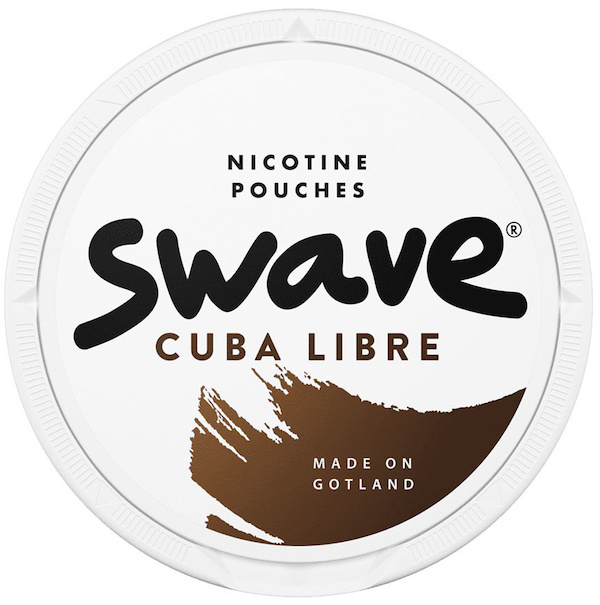 A flavor inspired by the classic drink Cuba Libre with a taste of cinnamon and vanilla with hints of citrus and rum.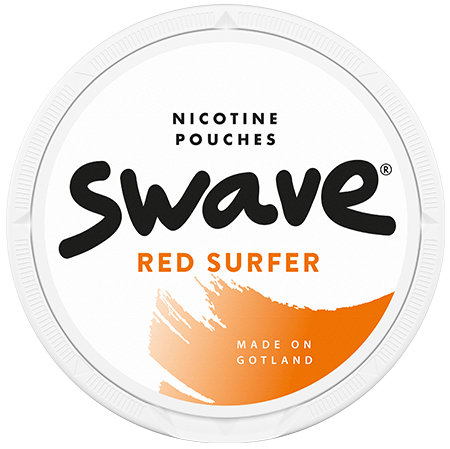 A sweet and fresh flavor of tart berries with hints of citrus and vanilla.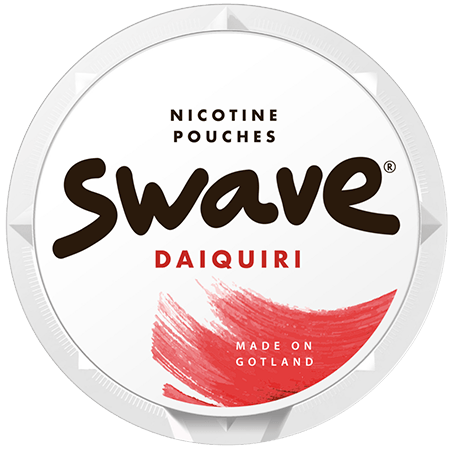 As the name suggests, the flavor is inspired by the drink Daiquiri with a clear melon flavor and hints of pear.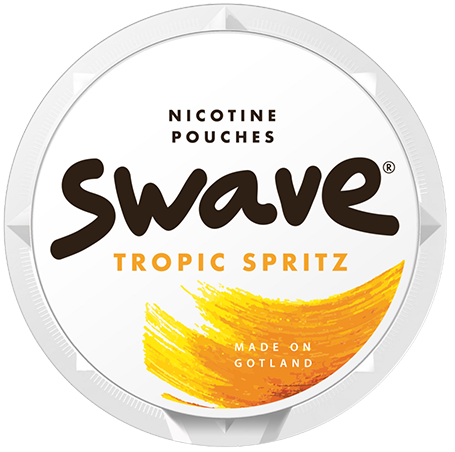 A tropical flavor explosion of pineapple that takes the mind to the tropics.
In addition to this, Swave releases new flavors in the form of Factory Batch on a regular basis that sometimes becomes part of the standard range.
Swave format
Swave nicotine pouches are available in two formats – slim and mini. What distinguishes Swave's nicotine pouches is that they are well-filled pouches that provide a comfortable feel under the lip. Some manufacturers make their pouches so that they barely feel under the lip, but if you're looking for an experience where you get a bigger usage experience, then Swave's portion format may suit you well.
Swave's nicotine pouches are relatively moist with a moisture content of 40%. This makes them run more than many other nicotine pouches, but at the same time contributes to a more powerful experience and also makes the nicotine released faster.
How many pouches are in a can of Swave?
A can of Swave slim contains 20 pouches and Swave Mini contains 20 pouches.