As you have noticed, nicotine pouches are available in a wide variety of options. The large selection is incredibly positive as it makes it possible for more people to find the nicotine pouch that fits them the best.
However, even though the large selection of nicotine pouches is a benefit, it can also make it more difficult to know which one to choose. Where should you start and what should you consider when trying to find the nicotine pouch that fits your taste and preference the best?
Let's go through the most important things you should consider.
Nicotine strength

When choosing a nicotine pouch, one of the most important factors to consider is the nicotine strength. This will directly affect your overall experience for better or worse.
If you are a seasoned nicotine user, you can choose a stronger nicotine strength. If you choose a nicotine content that is too weak, there is a risk that you will not feel any nicotine effect from the pouch you insert. This is because your body builds up a certain tolerance for nicotine when you use it.
On the other hand, an excessive nicotine strength can also affect your experience. If you are not used to nicotine and choose an overly strong nicotine strength, there is a risk that you will feel dizzy and nauseous.
Nicotine strength is usually presented on a scale of one to four or one to five. One is low and two is considered normal. If you are new to nicotine, you should choose one of these strengths.
However, if you are a seasoned nicotine user, you can choose between 2 and five depending on your level of experience.
If you are unsure, our recommendation is that you choose a nicotine strength that is a little lower, and then gradually increase the nicotine strength so that you can find the one that is right for you for a maximum nicotine experience.
Format

The format of the nicotine pouch is something you should also consider. The most common format of nicotine pouch is slim – a long and narrow nicotine pouch that is designed for maximum comfort and an ideal fit.
The mini format is the smallest format and is developed to be very discreet both for yourself and for the environment. Thanks to their smaller format, they are especially suitable when you want to be discreet with your use of nicotine pouches and not have a bulge at your lip that is clearly visible.
Because slim is the most common option, it is also the option that most people start with. However, we would recommend someone who has never used snus or nicotine pouches before to start with the mini because they can sit more comfortably for those who are inexperienced. If you then feel that you would like a little more fullness and a larger feeling under your lip, you can switch to using the slim format.
For someone who is familiar with snus and nicotine pouches, you can start with the slim format, but also switch with the mini format for those times when you want to be extra discreet.
In addition to slim and mini, there are also other formats that are a little more unusual. You can refer to the picture above to determine which format of the pouch you think would suit you best.
Taste preferences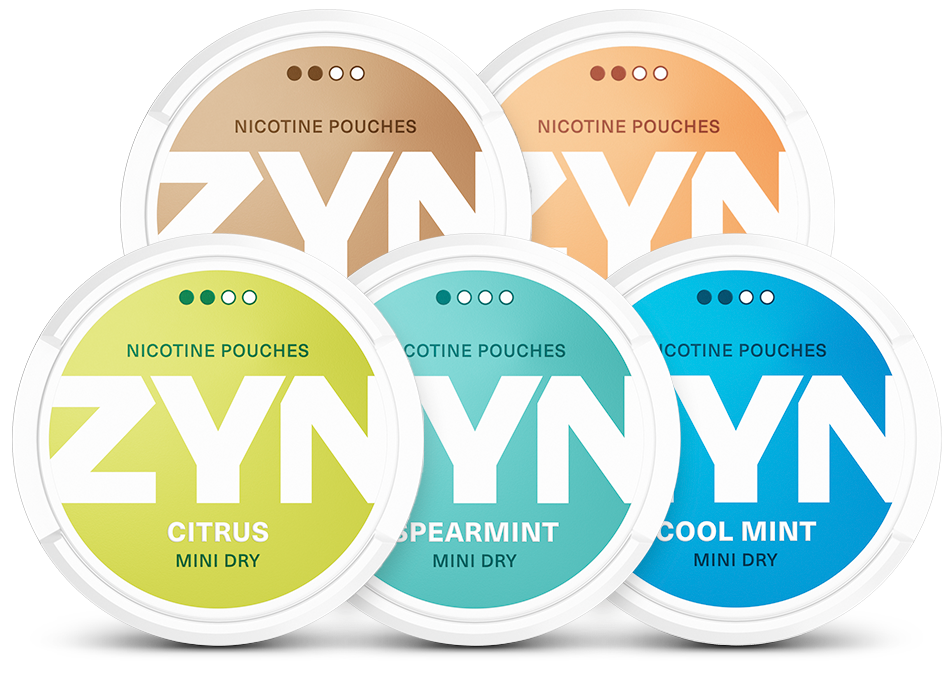 Nicotine pouches come in an endless variety of flavors, and new flavors continue to be launched consistently. This is good news for all nicotine pouch lovers as it means there is plenty to explore.
There is no right or wrong when it comes to choosing a flavor as everyone has different preferences. However, it can be helpful to ask yourself what types of flavors you like so that you can narrow down the choices you face.
Do you like the taste of fruit? Then maybe nicotine pouches with flavors like apple, berry, citrus, or peach would suit you?
Do you prefer the freshness and coolness of mint? Then maybe mint or spearmint would suit you? Different types of mint are the most common and popular flavors for nicotine pouches, so for many, this is a good starting point.
If you want something more unique and a completely different taste experience, maybe the thought of coffee, raspberry licorice, or ice tea flavor would suit you?
Initially, you can define what types of things you would prefer, but beyond that, you can only try to find your favorite.
Dry or moist?
The majority of nicotine pouches are designed to drip minimally. This boils down to preference as many like the run which contributes to an increased taste experience while others dislike it.
The majority of nicotine pouches on the market come with a moist content and a dry pouch. For those who prefer less run, there are however nicotine pouches that are completely dry, also known as "dry".
If you dislike drip, you should look at the moisture content of the pellet to determine how moist it is. The reverse is also true if you like drip and want a nicotine pouch that drips a little more.
Try and discover your favorite
The great thing about there being so many different flavors of nicotine pouches is that there is a lot to try and experience. You can never know what your favorite is until you have tried a large number of nicotine pouches.
To find your absolute favorite, the only way is to try a large number of nicotine pouches to find your favorite. Fortunately, different flavors are often available in several different formats and nicotine strengths. If you find a flavor you like, there is a good chance that you can also find it in a larger or smaller format, or with a higher or lower nicotine strength that you can switch to in order to find the perfect pouch. There is no right or wrong, the most important thing is your own overall experience.