VELO, or Velo, is one of the most popular brands of nicotine pouches on the market. This can be explained by several different reasons but one explanation is that it is one of the first brands on the market.
Many in Sweden are familiar with the brand Lyft which was long on the Swedish market. The reason for this is that Lyft was the name that Velo used until it was changed to Velo. This can create some confusion but Lyft and Velo are the same company.
Velo is owned by British American Tobacco, abbreviated as BAT, and is one of the oldest nicotine pouch brands on the market. The brand has established itself as one of the leaders in the nicotine pouch segment and has become one of the most popular choices among many.
Velo Nicotine Pouches – History and Background
The history of Velo begins in 2015 with the brand Epok, which many snus users are familiar with. Epok was launched as the world's first white snus. But unlike Velo, Epok contained tobacco. The way Epok achieved white snus was through a natural, chemical-free, and water-based process to treat and purify the tobacco, leaving it completely white.
Epok was the first brand to see the advantages of making white snus, including not discoloring the teeth and being perceived as a fresher, and in this way, one could say that Epok was the starting shot for a completely new market that eventually grew to become tobacco-free nicotine pouches.
Even though there is flavored tobacco snus on the market, the possibilities for flavoring are always limited by the tobacco taste. To create a good snus, it's important that the tobacco flavor goes well with the flavoring. This was another door to a new world that Epok opened with its white snus. Thanks to the purification process of the tobacco, the distinct tobacco flavor disappeared, giving greater opportunities for flavoring the snus, which is similar to tobacco-free nicotine pouches today.
The company produced snus under the brand Epok until the fall of 2018. At this point, Epok stopped being produced and was instead replaced by Lyft.
The company changed its name from Epok to Lyft in 2018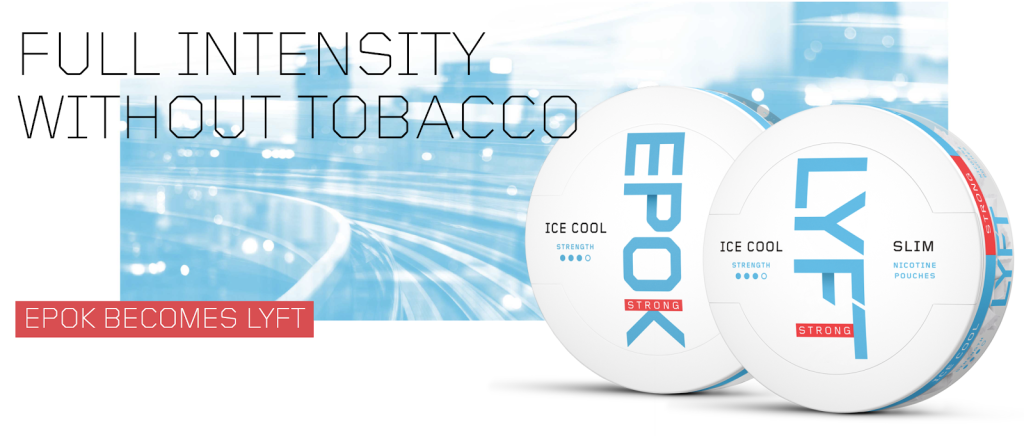 In the autumn of 2018, British American Tobacco changed its name from Epok to Lyft. The reason for this was that the product was completely revamped. BAT had discovered the benefits of white snus but realized that there might be better alternatives to tobacco for the white snus. As a result of this, Lyft was launched as a further development of the white concept from Epok, but with a product that was completely free from tobacco.
One could say that the launch of tobacco-free snus by Swedish Match in 2016 marked the beginning of a new era, but it can definitely be said that British American Tobacco, through its predecessor Epok, was the company that opened the door to what would become a whole new segment and ultimately leads to nicotine pouches without tobacco.
Worth noting is that Epok remains in one market, namely the Norwegian. The reason is that nicotine pouches that do not contain tobacco fall under different laws and for that reason, nicotine pouches without tobacco are not allowed to be sold in Norway. As such, BAT kept Epok in Norway and kept the recipe of mixing plant fiber with a small portion of washed tobacco to be able to continue to sell it in Norway. BAT began selling Epok without tobacco on the Norwegian market but had to make adjustments. In July 2018, the Norwegian Directorate of Health gave the producer of the tobacco-free snus product Epok one week's notice to withdraw it from the market. The snus contained nicotine but not tobacco, and is therefore in violation of Norwegian regulations for new nicotine products to be sold over the counter. The was illegally for sale in Norway since before the summer of 2018 according to the directorate.
In 2022, Lyft changed its name to Velo

In 2022, it was time for another name change for the brand. This time from Lyft to Velo. Unlike the name change from Epok to Lyft, nothing changed in connection with this name change. The products in the product line are the same, with the only difference being the name change.
The reason for the name change was that BAT used the name Velo in several other countries outside of Sweden. Although we in Sweden have come to know the brand Lyft, it was sold in other countries under the brand name Velo in parallel. In connection with the name change, Kingsley Wheaton, Chief Marketing Officer at BAT, said the following.
"Consumers want brands they recognize and can purchase wherever they are in the world. This way, we can more easily convey our message about the alternatives we offer to cigarettes."
Velo nicotine strength
Velo is available in several different flavors, so you can be sure to find a nicotine strength that is right for you. To grade the different nicotine strengths, Velo uses a scale of one to four, where each number indicates a nicotine strength. Note that the nicotine strength varies between mini and slim formats. A Velo in mini format does not contain the same amount of nicotine as a Velo in slim format. This is because the nicotine content is not the only factor that affects the nicotine experience.
| | | |
| --- | --- | --- |
| Strength | Nicotine Content | Nicotine content per pouch |
| 1 (mellow) Mini | 0.8% | 6mg |
| 2 Slim | 0.8% | 5.6mg |
| 2 Mini | 1.2% | 6mg |
| 3 (Strong) Slim | 1.40% | 10mg |
| 3 (Strong) Mini | 1.60% | 8mg |
| 4 (X-Strong) Slim | 1.56% | 11mg |
What do Velo nicotine pouches contain?
Velo nicotine pouches do not contain tobacco. Instead, they use plant fiber to fill the pouch, which is the central ingredient in all nicotine pouches. More specifically, Velo uses plant fiber from pine.
The contents of all Velo products are more or less the same for all, with minor variations in flavors, flavorings, and nicotine.
The ingredients in Velo Ice Cool Slim Strong are:
Water, bulking agent (E460), flavor enhancer (cocoa salt), xylitol, nicotine, flavors, thickener (E401), salmiak, acidity regulator (E500), sweetener (E950).
Velo flavors
Velo has a wide range of flavors when it comes to its product line. Some flavors have been phased out over the years while new flavors have been added. Velo is a brand that has dared to experiment with many different types of flavors and does not only stick to the most common, such as various types of mint flavors.
Among Velo's many flavors are exciting options such as Elderflower Spritz, Royal Tea, and Tropic Breeze, to name a few. With Velo's varied flavors, there is a high chance that you will find a Velo flavor that suits you.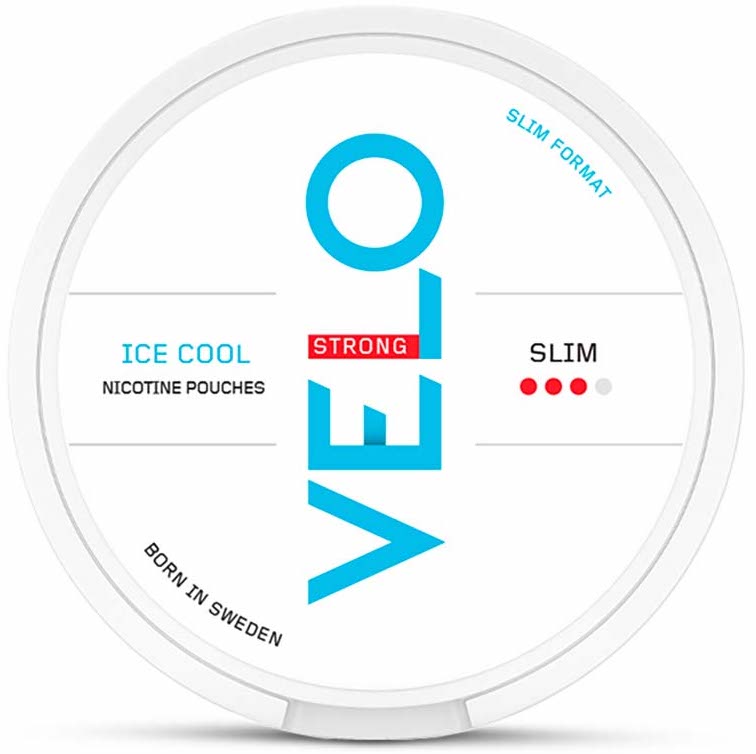 Velo Ice Cool Mint
A cool and crisp flavor of mint with hints of peppermint and a touch of sweetness.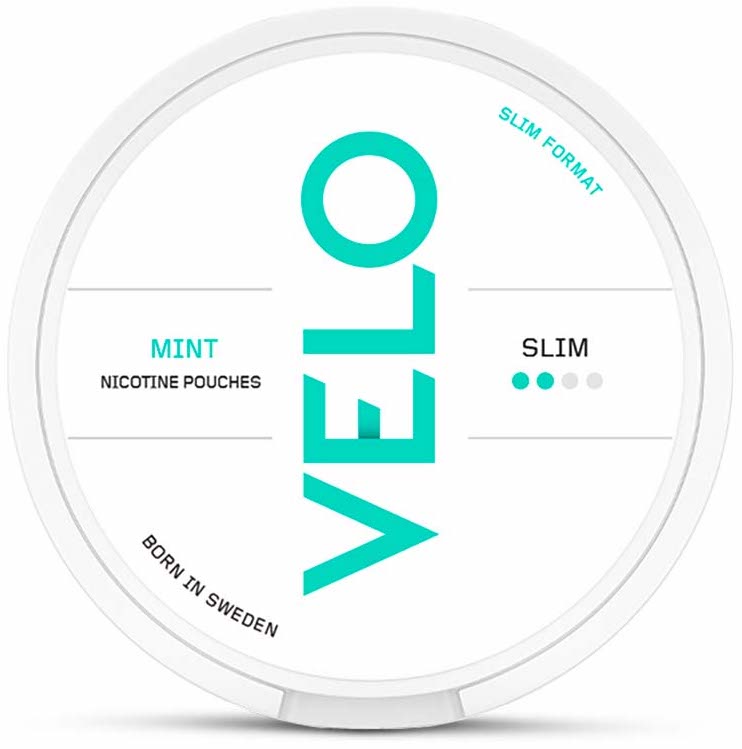 Velo Mint
A refreshing nicotine pouch with a rich sweetness from mint and the freshness of menthol.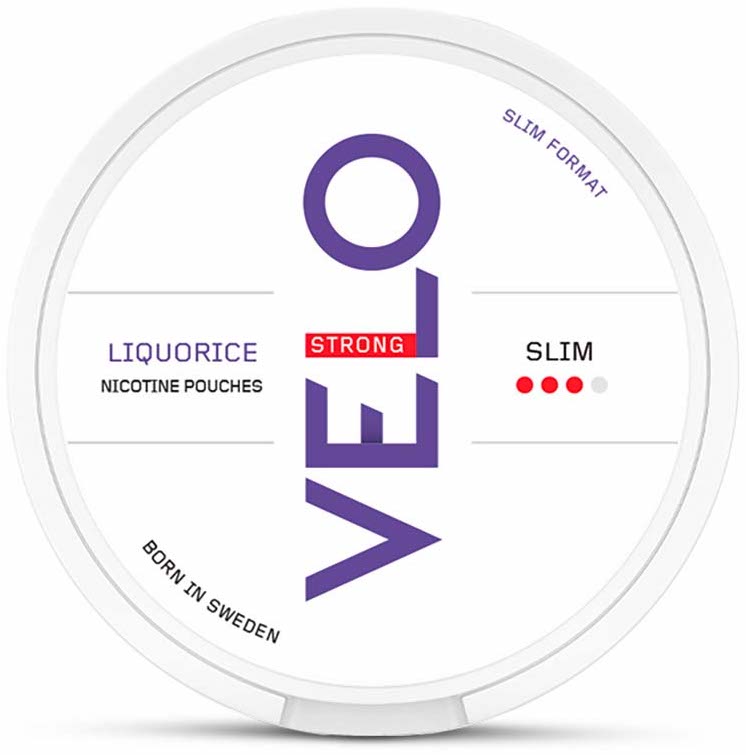 Velo Liquorice
A classic and fresh flavor of licorice with undertones of anise, salmiac, and caramel.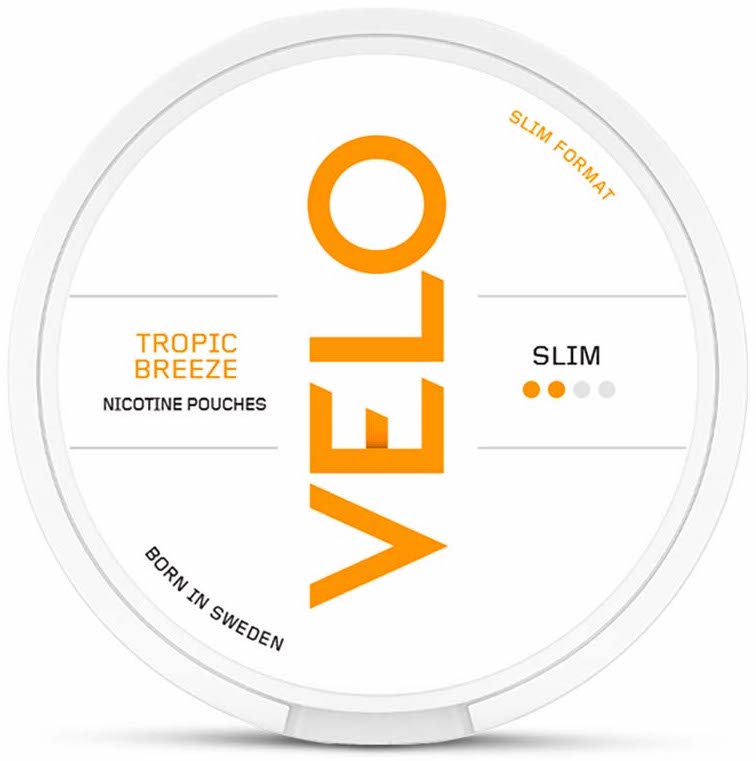 Velo Tropic Breeze
A nicotine pouch that takes the mind to Asia and tropical latitudes. A fresh taste of tropical fruits with a blend of passionfruit, mango, and mandarin.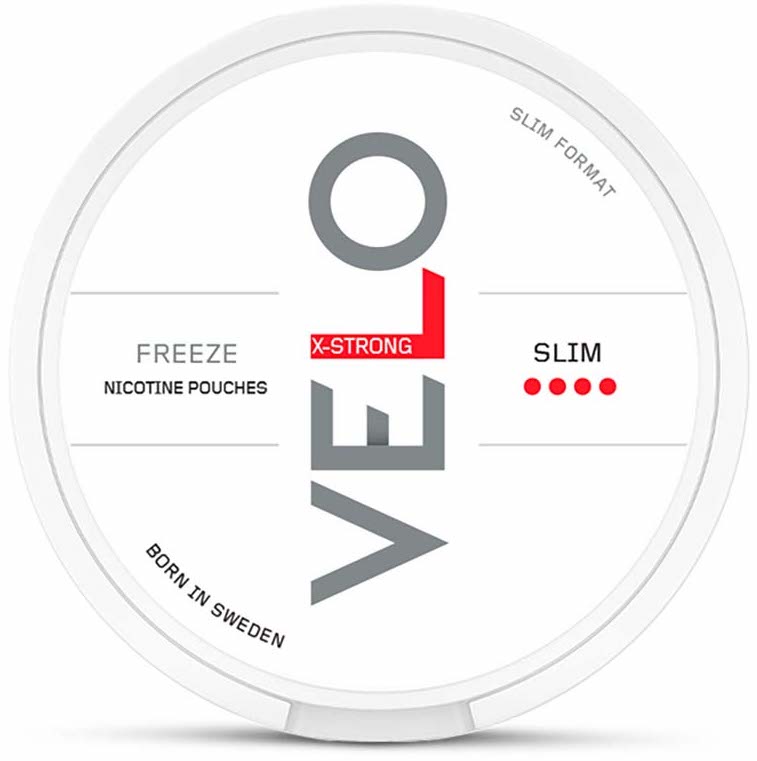 Velo Freeze
A cool mint experience with high intensity for a powerful experience beyond the ordinary. It has an intense flavor of peppermint and an icy feeling of menthol that gives the sensation of a crisp winter day.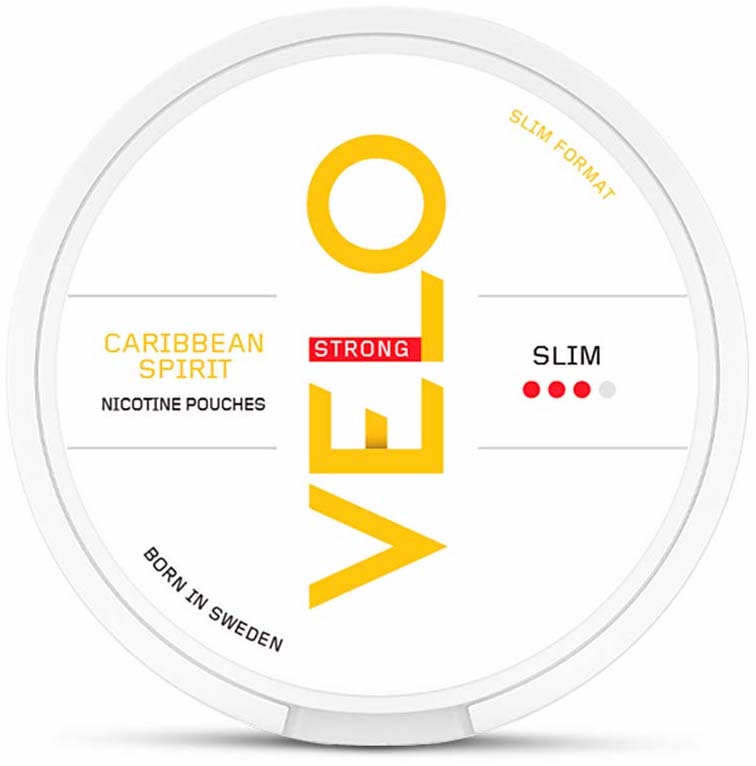 Velo Caribbean spirit
Velo Caribean Spirit takes your mind to the Caribbean and clear blue waters with palm trees and shining sun. It has a sweet taste of Piña Colada filled with sweetness from pineapple and a refreshing tartness from coconut.
Velo format
Velo nicotine pouches are available in two formats: slim and mini.
Both slim and mini formats of Velo nicotine pouches offer a convenient and discreet solution for nicotine intake. The slim format is long and slender, making it the standard format for the majority of nicotine pouches on the market, and its narrow profile provides a comfortable fit under the lip.
The mini format, on the other hand, is smaller in size and perfect for those who want complete discretion during use.
How many pouches are there in a Velo can?
Velo slim contains 21 pouches per can, and Velo mini contains 20 pouches per can.