VOLT is one of the most popular brands of nicotine pouches on the market. VOLT was founded by Swedish Match and is a relatively new brand on the market compared to Swedish Match's brand ZYN.
About Volt nicotine pouches: background and history
One could say that the predecessor to VOLT is ZYN for several reasons, one of which we will examine in more detail later. As Swedish Match saw an increased interest in nicotine pouches on the market, they began to broaden their product line and produce more flavors. Swedish Match launched the ZYN brand in 2014, but only in the American market. After great success in the US, Swedish Match decided to introduce ZYN on the Swedish market and made this announcement on December 13th, 2016.
At this time, Swedish Match only had one brand that produced white, tobacco-free snus, which was ZYN. In order to broaden its product line and appeal to a wider target audience who likes different types of nicotine pouches, it needed to create a new brand with different products than the ones offered by ZYN.
Swedish Match's answer to this was VOLT.
VOLT was launched as a brand by Swedish Match on May 10th, 2021. The brand was launched in four strengths and six different flavors at first. With that said, VOLT is a fairly new brand on the market. But of course, Swedish Match is far from a newcomer in this segment, and the company's expertise and experience have been used in the development of VOLT's products.
Before the launch of VOLT, Swedish Match CEO Lars Dahlgren announced in April that a new "product family" within nicotine pouches would soon be launched in Sweden.
Since VOLT's launch, the brand has introduced many new flavors, strengths, and formats.
Some ZYN flavors transitioned to become VOLT.
As you may have noticed, several of VOLT's flavors were previously manufactured under the ZYN name. As previously mentioned, ZYN can be seen as the precursor to VOLT, partly because it is Swedish Match's first white and tobacco-free snus, and partly because some of the flavors manufactured under the ZYN brand transitioned to become VOLT. Same product, different brand.
Swedish Match's goal in expanding its nicotine pouch product line was to increase its market share, and the launch of VOLT was a crucial part of this plan, along with brands such as Swave and XR Free from Tobacco. However, Swedish Match faced some issues with the VOLT brand after its launch, as VOLT began to compete with its own brand ZYN, which was not the intended outcome. This was due to the fact that ZYN and VOLT were not distinct and unique enough, partly explained by the fact that Swedish Match simply changed the name of some ZYN flavors to VOLT.
Swedish Match CEO Lars Dahlgren stated the following:
"We have a very clear ambition which is the same. In addition to seeing that what we have in the market now is doing well, the difference is that Volts cannibalization of Zyn is starting to correct a little so it seems like the different brands have found their positioning in a better way."
We can look at a comparison between the pouches when they were sold as ZYN and today when they are sold as Volt:
ZYN Dark frost
VOLT Dark frost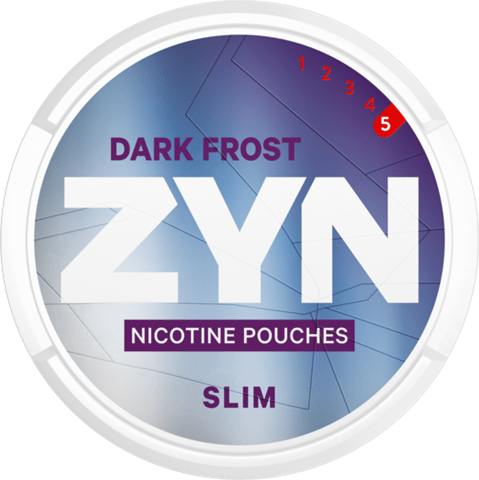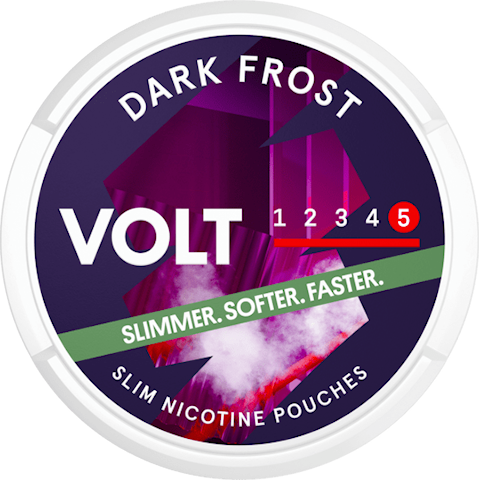 ZYN Deep freeze
VOLT Deep Freeze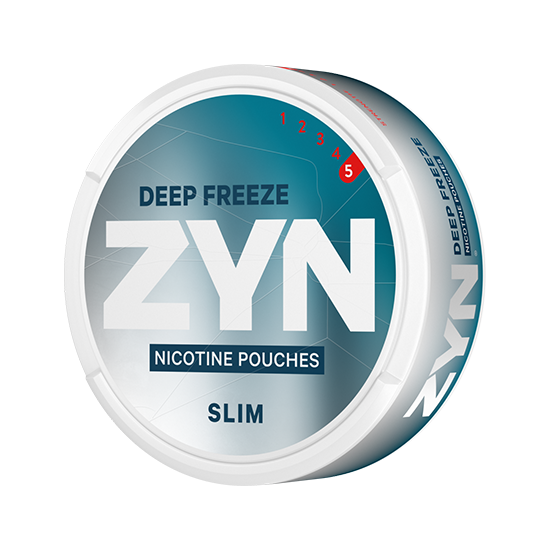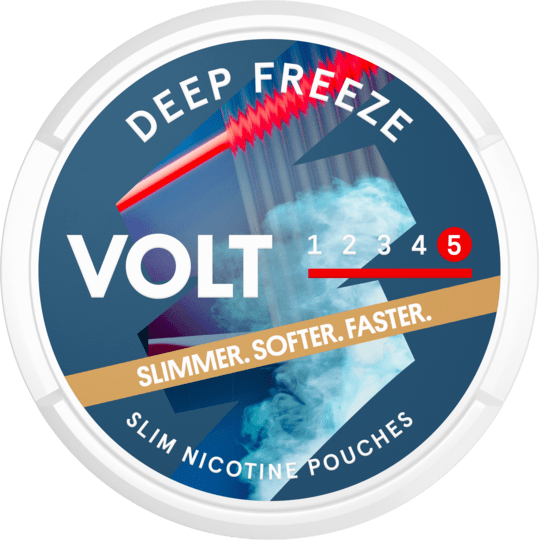 VOLT has launched Pearls
In May 2022, VOLT launched what they themselves claim to be the latest innovation in nicotine pouches.
VOLT's Pearls technology means that the contents of the nicotine pouches are not in powder form but as pearls.
This new and unique format is an entirely new concept developed and invented by Volt, and according to them it provides a unique taste and experience for the nicotine pouches. The Pearl technology also affects the feeling under the lip and primarily provides an optimized fit.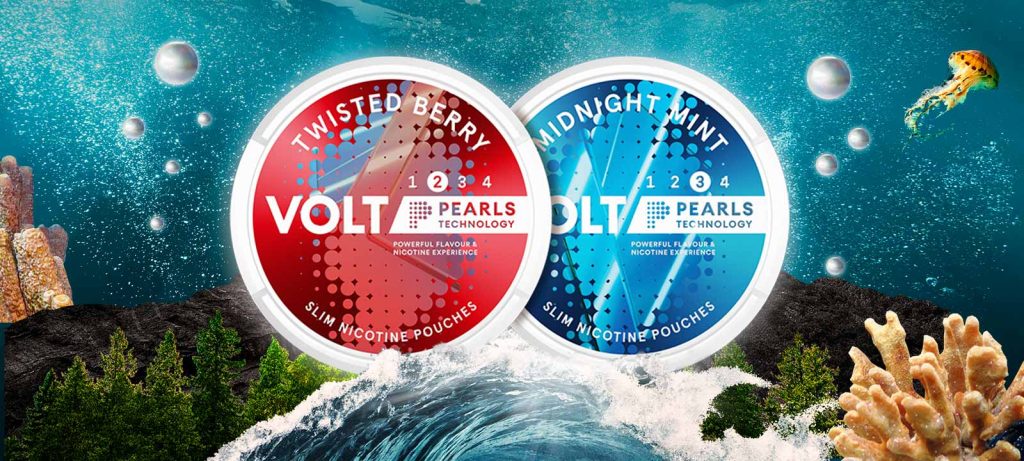 VOLT's launch – whether you prefer pearls or not – is a sign that VOLT wants to establish itself as an innovative brand that works hard to develop and improve and wants to be seen as a leader in driving the development of nicotine pouches forward.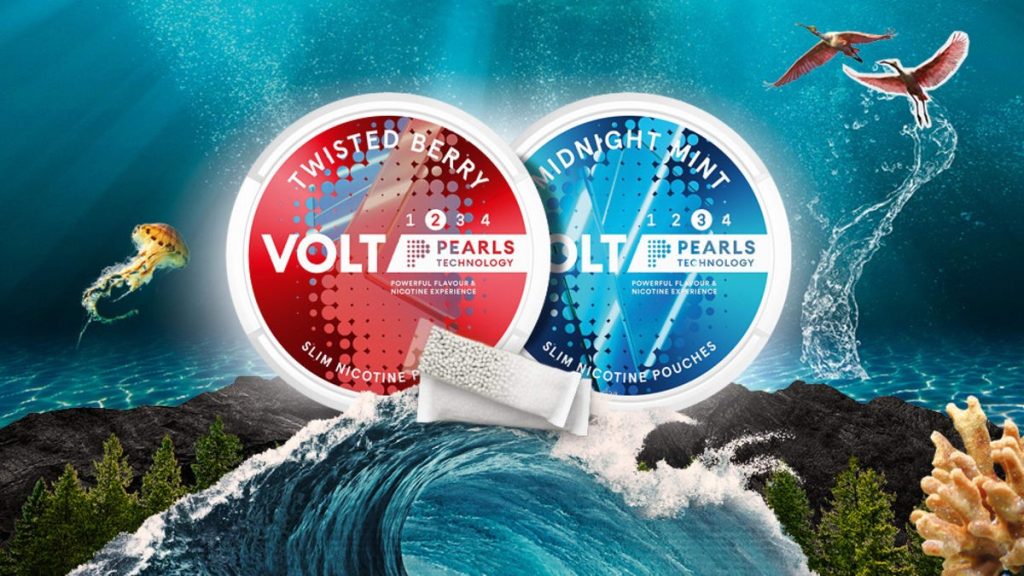 VOLT introduced two new versions during the launch of the new technology. VOLT Pearls Twisted Berry with a nicotine strength of 2/4 and VOLT Pearls Midnight Mint with a nicotine strength of 3/4. But the pearls technology is likely here to stay, and with that said, we can expect VOLT to introduce new flavors and nicotine strengths with the Pearls technology.
Normally, nicotine pouches are manufactured by mixing plant fiber with other ingredients such as flavorings and nicotine. The production of Pearls is done in a similar way but with the difference that the filler material has the shape of small pearls. Furthermore, the addition of, for example, flavor, and nicotine is not mixed into the content itself but is instead placed on the surface of the pearls. This allows for a faster and more powerful nicotine and flavor release.
VOLT nicotine strength
VOLT's nicotine pouches come in several different nicotine strengths. For VOLT's nicotine pouches, a scale of 1 to 4 and 1 to 5 is used for their strongest nicotine pouches which are classified as a five. To emphasize the higher nicotine content of the strongest nicotine pouches, VOLT added a number (5) for them. Some manufacturers only use a scale of 1 to 4, but since VOLT already used 4 for existing products with lower nicotine content, they had to add a number to reflect the higher nicotine content.

VOLT has a wide range of nicotine strengths, from 1 on the scale up to 5. The nicotine pouch with the lowest nicotine content is the VOLT red swirl mini with a nicotine content of 0.57%/3mg per pouch and with the highest nicotine strength, VOLT has several options, including the most popular, VOLT frosted apple with a nicotine content of 1.80%/12.5mg per pouch.
As several factors affect the nicotine experience, including moisture levels and the size of the pouch, the nicotine content can vary even if the scale is the same. For example, VOLT Mystic Blue Mini with a nicotine strength of 2/4 has a nicotine content of 0.57%/2.5mg per pouch, while VOLT Spark cosmic dust slim 2/4 has a nicotine content of 0.93%/6.5mg per pouch. The Pearl pouches also vary in nicotine content due to the different formats..
The strength system for VOLT's nicotine pouches represents the following nicotine content.
A pouch: 2mg per pouch (Mini) and 4mg per pouch (Slim)
Two pouches: 6.5mg per pouch (slim), 2.5mg for Mini, and 9.5mg for Pearls.
Three puffs: 9.5 mg per pouch (slim) and 9.6 mg for Pearls.
Four puffs: 10.5 mg per pouch (slim) and 11 mg for Slim.
Five puffs: 12.5 mg per pouch (slim).
Since humidity plays an important role in the nicotine experience, this is a factor that can be useful to know when considering the perceived nicotine strength.
VOLT has the following moisture content in its pouches:
Volt pearls: 13,7%
Volt slim: 48,0%
Volt mini: 48,0%
What do VOLT nicotine pouches contain?

The content of VOLT and the majority of other nicotine pouches on the market contain relatively similar ingredients. The primary difference between different brands is the manufacturing method and variations in the proportion of the different ingredients.
The main ingredients in most nicotine pouches on the market, including VOLTs, include plant fiber, nicotine, water, flavors, sweeteners, and fillers.
As an example, the ingredient list for VOLT Dark Frost is as follows:
Ingredienser: Ingredienser: vatten, fyllnadsmedel (E 460), växtfiber, fuktighetsbevarande medel (E 422), surhetsreglerande medel (E 500, E 509), salt, aromer, nikotin, sötningsmedel (E 950).
VOLT produces its nicotine pouches in their factory located in Silkeborg, Sweden.
VOLT flavors
VOLT today comes in a wide range of different flavors, and new flavors continue to be introduced relatively frequently. While some new flavors are introduced, some flavors are discontinued from the range. An example of this is Java Shake with a coffee flavor which recently left VOLT's range.
Some of VOLT's most popular flavors include:
VOLT Frosted apple
VOLT Zesty Citrus
VOLT Pearls Twisted Berry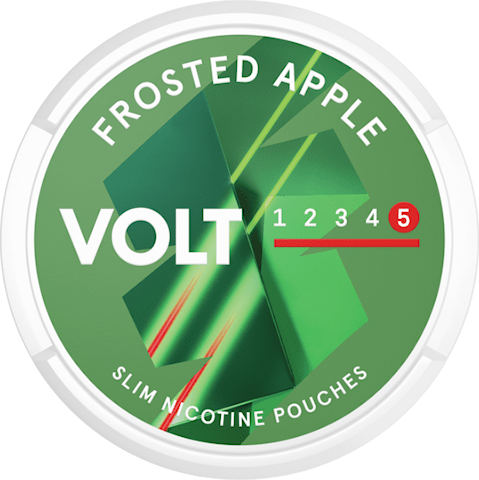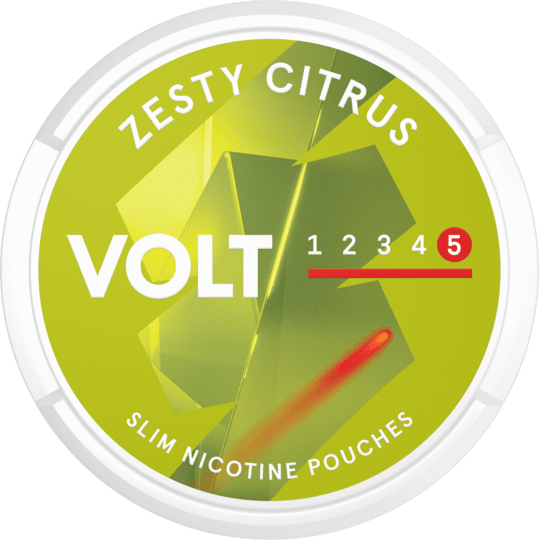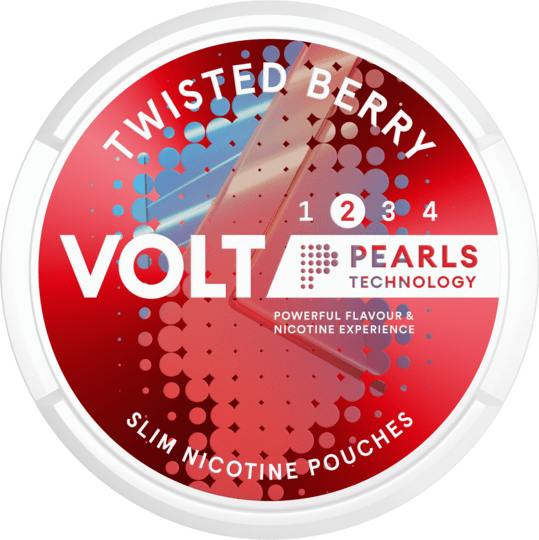 VOLT Dark Frost
VOLT Deep Freeze
VOLT Spearmint Breeze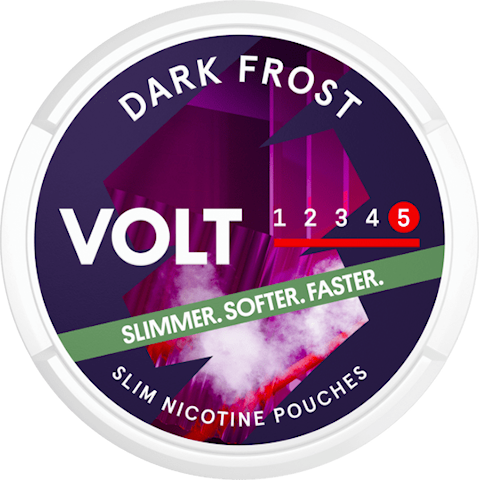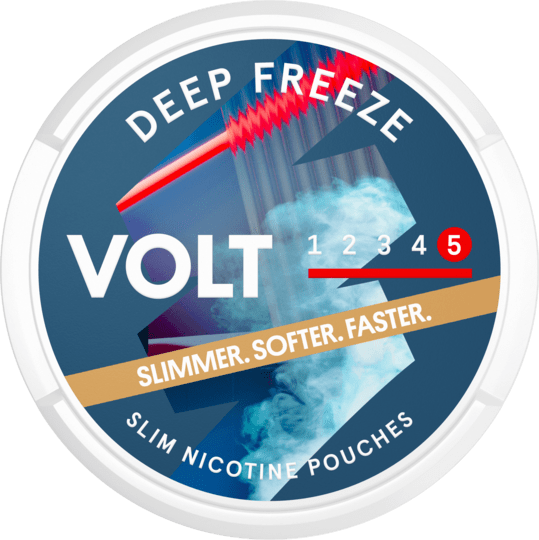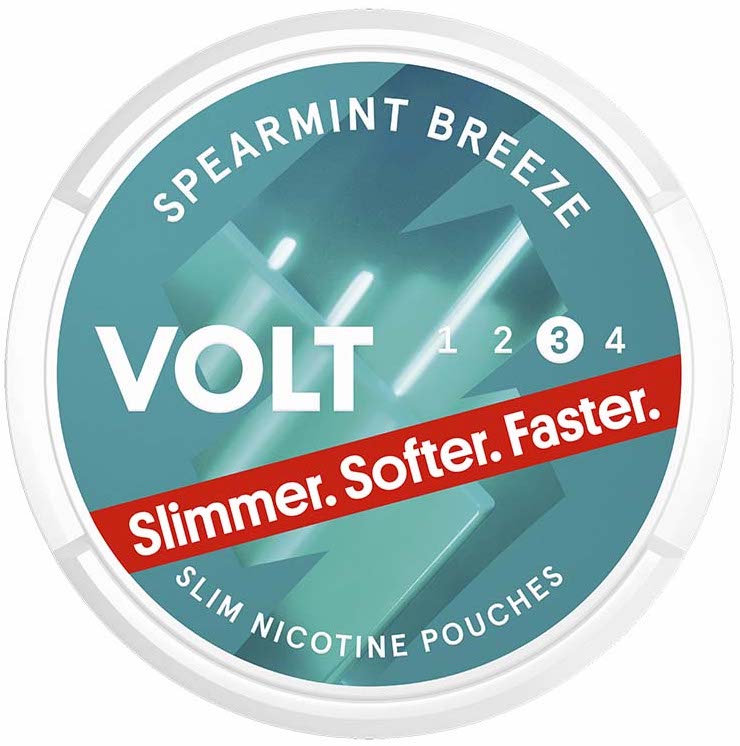 VOLT Format
VOLT nicotine pouches are available today in three different formats: Slim, mini, and pearls. Technically, Pearls come in a slim format, but because the pouches are so unique and provide such a different experience, we can classify this as a different format for the sake of argument.

VOLT's three formats make it easy to find the format that suits you best.
VOLT slim pearls and slim weigh 0.7 grams per pouch, VOLT mini weighs 0.5 grams per pouch.
How many pouches are in a can of VOLT?
A can of VOLT slim contains 21 pouches and a can of VOLT mini contains 20 pouches per can.