In the world of traditional Swedish tobacco snus, three brands hold special status as the holy trinity of tobacco snus: Ettan, Göteborgs Rapé, and General. One of the most popular series of tobacco snus is the X Range series from Swedish Match (most often referred to as "XR"). Swedish Match describes its XR series in the following way:
"XRANGE offers products that drip less and retain flavor longer in a discreet can at a competitive price."
In essence, the XRange series consists of snus that has a slim format. Among these leading sellers, General is a prominent brand that has now launched a new product with great excitement – General XR Free from Tobacco – the first tobacco-free nicotine pouch in the XRANGE series. This innovative nicotine pouch is completely tobacco-free and is sure to be a hit with fans of the General brand and those looking for a tobacco-free alternative to traditional snus that is still as close as possible in terms of flavor to tobacco snus.
General XR Free from Tobacco Flavor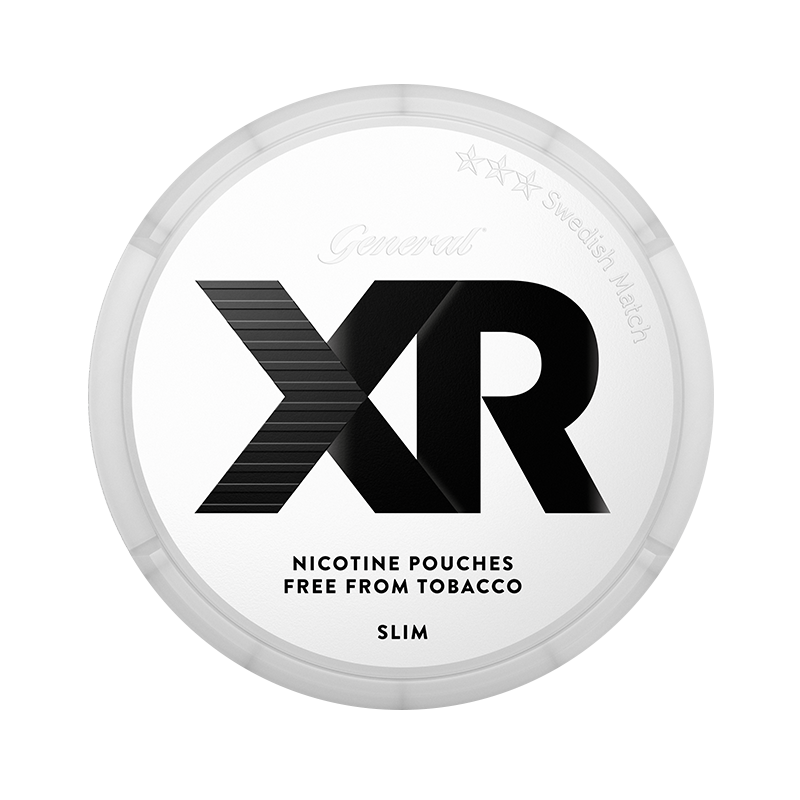 XR Free from Tobacco offers the genuine flavor of tobacco without the harmful consequences of smoking. For those who enjoy the taste of tobacco, this product is a must-try. The distinct combination of flavors in XR Free from Tobacco has been awarded the top rating by our in-house testing team at Swenico. They depict the taste as rich and well-rounded with a subtle touch of licorice.
---
General XR Free from Tobacco Nicotine Strength
When it comes to strength, General XR Free from Tobacco is comparable to General's regular tobacco-filled nicotine pouches. A "normal" strength tobacco snus typically contains 6.8mg nicotine per pouch, whereas the all-white XR Free from Tobacco contains 6.5mg nicotine per pouch. Although General does not use the common "dot system" on their, so far, only product XR Free From Tobacco, it would be equivalent to 2 dots out of 4.
With its authentic flavor and strength that stays true to the original, coupled with the reputation of its renowned manufacturer General, the all-white variation from General receives a solid rating on its own.
Amount of Pouches in XR Free from Tobacco
Similar to many other manufacturers, General provides 20 tobacco-free nicotine pouches per can, along with an upper lid for the convenient disposal of used pouches. With a flavorful and moist pouch that delivers the taste right from the start, and continues to last for an extended period of time, up to an hour, you are up for a treat with every pouch.
About XRange
Originally, the Xrange series from Swedish Match was a collection of snus products (containing tobacco).
Swedish Match originally announced the launch of its new snus product line, XRANGE, on March 30th, 2015. The development of XRANGE was the result of extensive efforts by a team of production engineers, product developers, and quality controllers who worked together to develop a new production technology in the company's factories in Gothenburg and Kungälv.
According to Fredrik Beltzér, Marketing Manager Portfolio Development, XRANGE represents the intersection of classic brands and innovation. The product line seeks to maintain the cherished taste and uncompromising quality of Swedish Match's classic snus products, while also introducing new innovative features and a modern design.
Beltzér further explained that the company's goal is to continue evolving XRANGE with new products and features to meet the evolving preferences and demands of consumers. He added that the launch of XRANGE represents an innovation not only for Swedish Match but also for the entire snus category.
With the introduction of XRANGE, Swedish Match sought to further solidify its position as a leader in the tobacco industry by continuously developing new and innovative products that cater to the needs of its customers.
About General XR Free From Tobacco
On January 15, 2021, Swedish Match announced the debut of its XR Free from tobacco nicotine pouches, a pioneering product under the XR brand. The tobacco-free pouches first became available for purchase in Swedish Match's own stores throughout Sweden and then later at retailers.
XR Free from tobacco features a taste inspired by traditional tobacco while being completely free of any tobacco content. The product maintains a solid white appearance and a slim pouch format, similar to other offerings within the XR line.
Karin Pauli, Marketing Manager for Swedish Match Sweden, expressed the company's goal in offering a wider range of options for consumers seeking all-white nicotine portions. "We want to offer an alternative for those of our consumers who are looking for a tobacco-free product but who still appreciate the taste of tobacco, the traditional snus taste," she said.
Swedish Match initially introduced all-white nicotine portions in Sweden back in 2016 under the ZYN brand, with multiple flavors and pouch formats available. XR Free from Tobacco is the company's first nicotine portion product launched in Sweden that incorporates a tobacco-inspired flavor, further expanding its diverse portfolio.
Similar Products to General XR Free from Tobacco
As people become increasingly curious about tobacco snus while trying out tobacco-free nicotine pouches, some may prefer to avoid consuming tobacco like what's found in traditional snus. This has led to more brands experimenting with and introducing "natural" or "tobacco-inspired" flavors in their products. Here are a few examples of more tobacco-inspired all-white nicotine pouches, that are completely free from tobacco.