The market for nicotine pouches is growing rapidly. Nicotine pouches started to emerge in 2017 and had a big breakthrough in 2018. Since then, usage has continued to increase and now competes for top spots with the classic tobacco snus that has existed for centuries.
Of course, there are several good reasons why nicotine pouches, also known as smokeless tobacco, white snus, or all-white, are becoming increasingly popular. To read in detail the benefits of nicotine pouches, you can read this article.
But to summarize, some of the main advantages of nicotine pouches are as follows:
Does not discolor teeth
Perceived as fresher
There are lots of flavors
May be less harmful than tobacco snus
Nicotine pouches are used in the same way as snus and even though nicotine pouches have only been on the market for a few years, their history can be traced back to the long history of snus. Nicotine pouches are actually just a development of the snus product, asking the question if it is actually necessary to use tobacco. And the answer to that question is no.
In the early years of nicotine pouches, there were only a few brands and flavors on the market. But as popularity has increased, so has the supply on the market. Today, there are a large number of manufacturers and brands and even more flavors, formats, and strengths. This is good news for all users because it makes it possible to find the nicotine pouch that is right for you.
One of the most popular brands of nicotine pouches on the market is Zone X, and that is the brand we will take a closer look at in this article.
Zone X Nicotine Pouches: Background and History
Zone X as a brand has a relatively short history but the company behind it is far from a newcomer in oral nicotine products. Skruf launched its first snus as early as 2003. In 2005, Skruf was acquired by what was then the fourth-largest tobacco company in the world, Imperial Tobacco Group.
Therefore, Zone X is owned by Imperial Tobacco and produced by Skruf Snus AB, a company owned by Imperial Tobacco. Imperial Tobacco is based in the UK and has a long and extensive experience when it comes to tobacco products. With the acquisition, Imperial Tobacco bought 43.5 percent of the shares in Skruf.
The brand was launched in August 2021 and is therefore one of the younger brands of nicotine pouches on the market. For this reason, it was important to manufacture a completely unique product that stands out on the market.
Zone X is manufactured by Skruf, one of the most well-known brands when it comes to tobacco snus. They have previously manufactured white nicotine pouches under the Skruf brand called Super White. But to better position themselves on the market, they established a brand that will only focus on tobacco-free snus. Skruf called it its biggest move yet.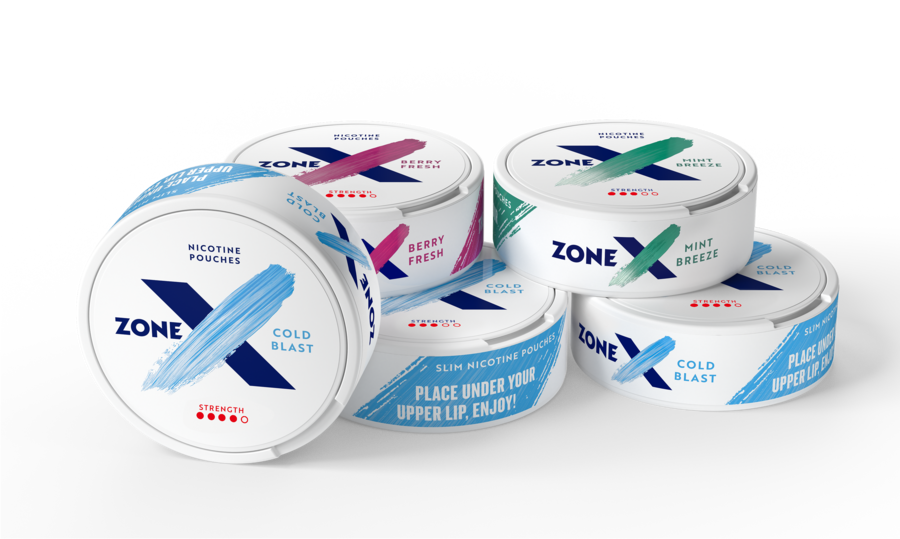 Camilla Lockwed, the Marketing Manager at Skruf Snus, said the following about the launch of Zone X:
"Our goal has been to offer a truly white nicotine portion combined with intense flavor and appropriate 'nicotine release'. Fit has of course also been an important component. Since there is a whole range of nicotine portions to choose from today, the most important thing has been to understand what consumers are missing. Therefore, throughout the entire process of ZoneX, we have worked with blind tests where consumers have been able to compare our products with other products on the market to ensure the right quality. Then comes the exciting work of creating an appealing design that feels modern and exclusive. It should simply be a design that you proudly display on your table."
The development of Zone X took Skruf over two years and the products were tested by 500 consumers. According to Skruf, the nicotine pouches were developed after testing over 100 recipes and 10,000 test pouches. Zone X is produced in Småland, in the factory in Sävsjö. This is the same factory where Skruf snus is produced.
Zone X is available in three different nicotine strengths, from normal at 8 mg nicotine per gram to extra strong at 16 mg nicotine per gram. However, it has been previously stated that plans are in place to broaden both the range of nicotine strengths and flavors.
Zone X uses a scale of 1 to 5 indicated by 'pops' on the can. Different manufacturers use different systems, usually a system between 1 to 4 or 1 to five. With a scale of 1 to 5, however, it provides greater opportunities to clearly indicate the nicotine strength.
The strength system represents the following amount of nicotine:
Mild – 3 mg/g nicotine
Normal – 8 mg/g nicotine
Medium – 11 mg/g nicotine
Strong – 14 mg/g nicotine
Extra Strong – 16 mg/g nicotine
What do Zone X nicotine pouches contain?
The main ingredients of all nicotine pouches on the market are relatively similar. The main components are the same, but there are variations in how they are manufactured and, above all, in the flavors used and the doses of the various ingredients. The key ingredients in Zone X nicotine pouches are water, flavoring, bamboo fiber, and nicotine.
However, Zone X stands out when it comes to its choice of plant fiber.
Plant fiber is the key ingredient in nicotine pouches and is used to replace tobacco. Zone X has chosen to use bamboo fiber.
The ingredient list for Zone X's different nicotine pouches will vary slightly, but primarily the base recipe is the same, with variations in the amount of nicotine and flavoring. This means that the ingredient list is essentially the same for all Zone X nicotine pouches.
Plant fiber, Water, Humectant (E422/E1520), Flavor enhancer (cocoa salt), Salmiak, Nicotine, Flavors, Sweetener (E950), Acid regulator (E500)
Zone X flavors
Zone X was originally launched with three flavors: Cold Blast, Mint Breeze, and Berry Fresh. Since its launch, Zone X has continued to develop new flavors, and we can expect that it will also release more flavors in the future.
The flavors of Zone X are characterized by fresh flavors. Several users have commented that many other nicotine pouches taste very sweet, but Zone X focuses instead on highlighting freshness in its flavors.
What flavors of Zone X are there?
Today, Zone X has five flavors in its range:
Cosmic Blast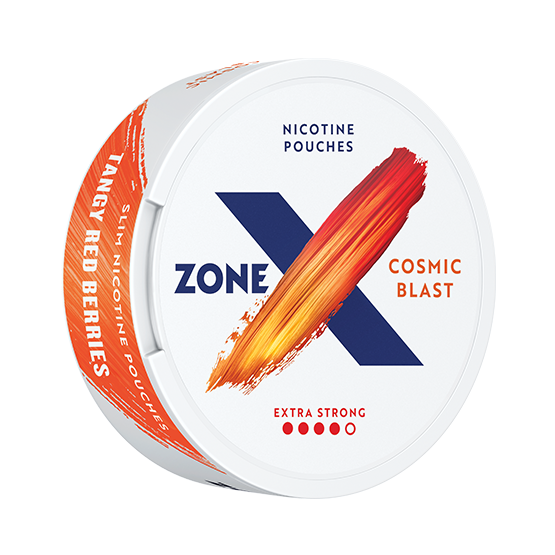 Zone X Cosmic Blast has a powerful flavor explosion of tart red berries combined with sweet vanilla.
Havana Breeze
The Havana Breeze has a mild freshness from the green mint with a touch of lemon and lime. A flavor that takes you away to summer and the sun. The flavor has a certain inspiration from the taste of mojito, hence the name.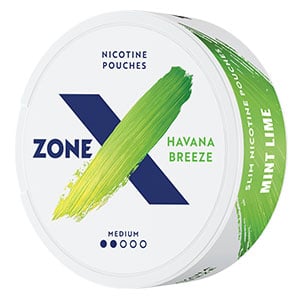 Cold Blast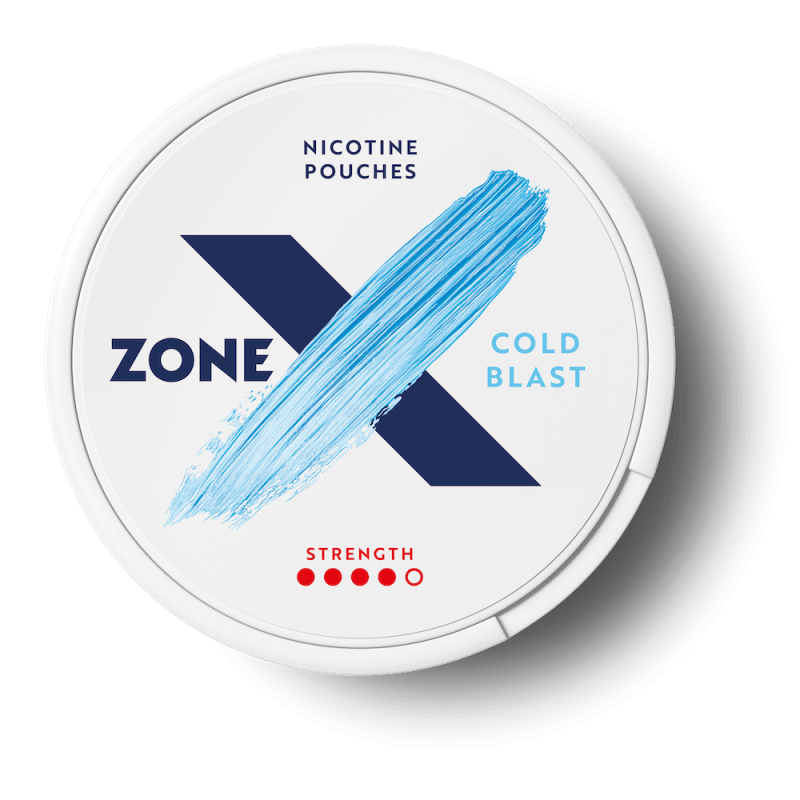 For a powerful mint experience, Cold Blast is a good flavor option. It combines the freshness of peppermint and menthol and provides a cooling effect with a little bit of bite.
Mint Breeze
Mint Breeze has a sweet taste of mint combined with a hint of menthol that provides a refreshing taste experience.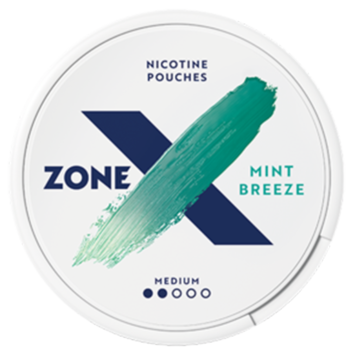 Berry Fresh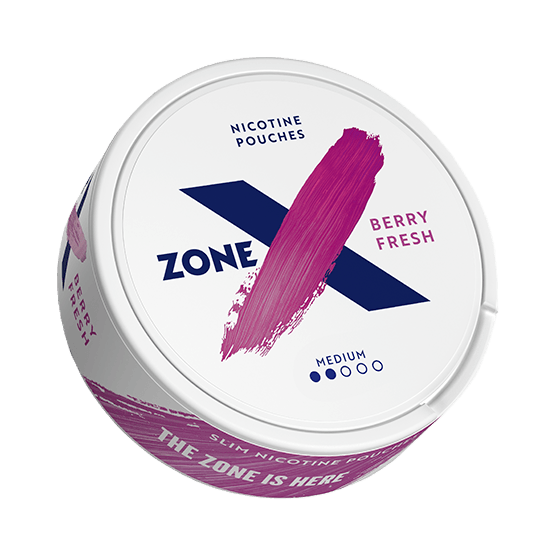 Berry Fresh has a fresh taste of mint combined with black currants. It has a good balance between freshness and sweetness.
Zone X format
What sets Zone X nicotine pouches apart is that they use bamboo fiber. Zone X calls it a groundbreaking fiber technology. The nicotine pouches are well-filled and provide a comfortable and soft feeling under the lip due to the bamboo fiber. Their nicotine pouches are designed to be smooth and soft to offer an ideal user experience.
Today, Zone X only manufactures slim-format nicotine pouches, but given that most manufacturers offer both mini and slim formats, it is not unlikely that Zone X will also introduce the mini format in the future. Zone X nicotine pouches are known to be dry and therefore run a little.
How many pouches are there in a can of Zone X?
A can of Zone X contains 24 pouches.