XQS is renowned for offering an array of exhilarating and delectable flavors that set them apart from other manufacturers in the market. Their Nicotine Pouches are predominantly moist in the can, ensuring a flavorful experience right from the moment you place the pouch under your lip. Unlike several other manufacturers, XQS has chosen to specialize in a diverse range of fruity flavors, rather than limiting itself to mainly mint variations. This approach has allowed XQS to consistently offer innovative and enticing options to their customers.
XQS Nicotine Pouch Slim Format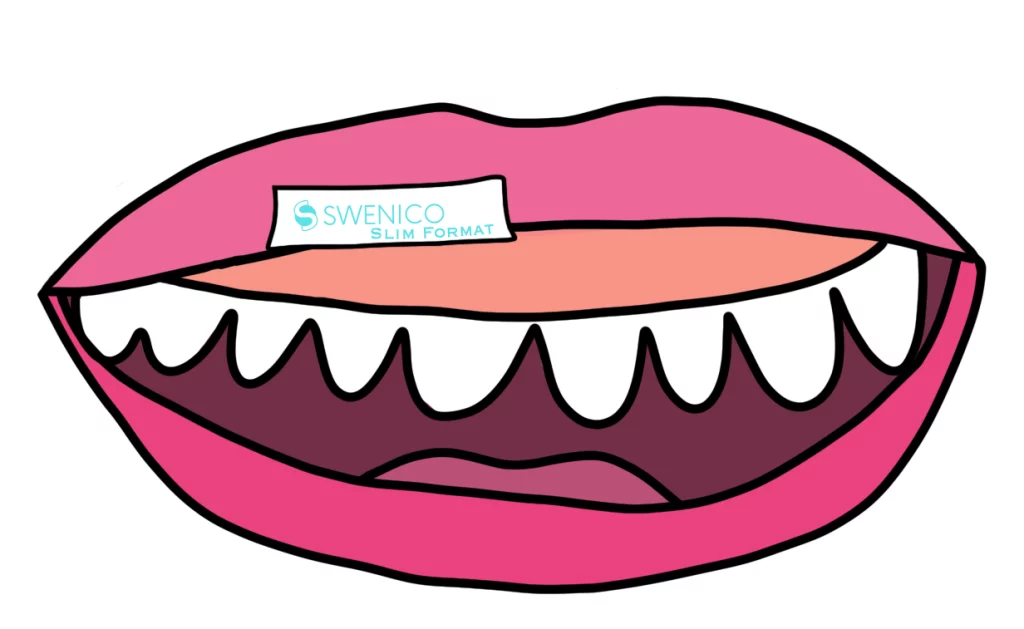 XQS has made a deliberate choice to exclusively offer a slim format for their nicotine pouches. This means that although the length of the pouch is comparable to a regular one, it is slimmer in width, making it more comfortable to place under the lip without causing any obstruction. This slim format is widely popular among users, so opting for XQS nicotine pouches based solely on their format should pose no problem for any nicotine pouch lover.
XQS Nicotine Strength
XQS offers a wide selection of exciting flavors, and users can choose between lower or stronger nicotine strengths, ensuring that everyone can enjoy their innovative and enticing options without any unwelcome surprises regarding the nicotine content in each pouch. This feature caters to users with different nicotine tolerance levels and preferences, allowing them to enjoy the diverse range of flavors XQS has to offer without compromising on nicotine strength.
XQS Light Nicotine Strength (4mg)
XQS has opted for a nicotine strength of 4mg per pouch for their regular nicotine pouches. This makes it an ideal choice for individuals who prefer a mild nicotine kick or are relatively new to nicotine products. However, it's worth noting that nicotine tolerance is subjective and can vary significantly from person to person. Therefore, it's crucial to use caution while trying any nicotine pouches, especially if you're unsure of your body's ability to tolerate nicotine.
Furthermore, the normal XQS nicotine pouch strength falls within the permissible limit for importing cans into Canada. Canadian authorities impose specific restrictions on the strength of nicotine pouches that can be imported into the country. Therefore, XQS's nicotine pouches are a viable option for individuals residing in Canada who face such restrictions.
XQS Strong Nicotine Strength (10mg)

XQS's "Strong" option contains 10mg of nicotine per pouch, making it a suitable choice for experienced users seeking a robust nicotine kick. However, it's worth noting that some manufacturers offer even stronger nicotine pouches than XQS. Despite this, the 10mg nicotine strength in each pouch should be sufficient to satisfy most experienced users. It's crucial to remember that nicotine tolerance is subjective, and users should exercise caution while using any nicotine products, especially those with higher nicotine strengths.
XQS Nicotine Pouches with Fruity Flavors
If you're a fan of fruity flavors, XQS is an excellent choice for you. Here at Swenico, we recommend some of our favorite XQS options that deliver a delicious fruit-forward taste:
XQS Black Cherry
Enjoy the sweetness of cherry with XQS's nicotine pouches. Treat your taste buds to the juicy and delectable flavor of this red berry, now available in a convenient and discreet pouch form. XQS has masterfully captured the essence of this succulent fruit, delivering it straight to your palate. Whether you're at home or on the go, savor the taste of cherry trees and their wood with XQS's cherry-flavored nicotine pouches.
Fortunately, XQS offers a more potent variant of Black Cherry for those looking for a stronger kick, containing 10mg of nicotine per pouch. Additionally, we strongly suggest trying Pipe Candy, which has a pleasant sweet taste and is available in both lower and higher strengths.
---
More Fruity Flavors by XQS
If you are searching for an even greater variety of fruity-flavored nicotine pouches, we highly recommend giving XQS Tropical a try. It is offered in both "light" and "strong" strengths and its flavor can be best described as a perfect summer day on the beach, incorporating juicy, fruity, and exotic notes.
We can also recommend the juicy flavor of Orange Apple, or why not XQS take on Twin Apple?
Mint Flavor by XQS
Undoubtedly, Mint is one of the most sought-after flavors, and XQS has created a nicotine pouch that truly embodies it – "Epic Freeze". This long-lasting pouch offers a refreshing and authentic mint flavor that is sure to satisfy those looking for a cooling and invigorating nicotine experience that never gets old.
As expected, XQS has also taken a unique spin on the classic mint flavor by blending it with the flavorful and wild Swedish forest berry, blueberry. This innovative nicotine pouch offers a refreshing and invigorating mint flavor with a twist of sweet and tangy blueberry.
---
XQS Citrus&Sour Flavors
It is evident that citrus and sour flavors are incredibly popular, and XQS has captured both in their Citrus Cooling nicotine pouch. The refreshing and wildly sour citrus flavor makes it the perfect everyday pouch for those who enjoy a zesty and invigorating nicotine experience.
For those who crave a more pronounced sourness, XQS Cactus Sour is a great option that delivers just that. This nicotine pouch has a unique and refreshing cactus flavor with a slightly stronger sourness than XQS Citrus Cooling, making it an excellent choice for those who enjoy a tangy and bold nicotine experience.
---
XQS Fizzy Cola
For a truly unique and unparalleled flavor experience, look no further than XQS Fizzy Cola nicotine pouch. This innovative pouch offers the classic and beloved taste of carbonated cola in a concentrated form, available in both "Light" and "Strong" nicotine strengths. If you're looking for a refreshing and one-of-a-kind nicotine experience, Fizzy Cola is the pouch for you.
---
XQS Nicotine Pouches in Conclusion
In conclusion, XQS has clearly taken an innovative approach with their selection of nicotine pouches, offering a variety of exciting and experimental flavors. At Swenico, we appreciate the diverse range of options, including exotic, fruity, sour, and beverage-inspired flavors. It's worth noting that each flavor is available in both a milder 4mg nicotine pouch and a stronger 10mg nicotine pouch, providing options for all preferences.